The Ultimate Indian Bridal Jewelry Guide for the Culturally-Rooted Bride
Published:
Mon, Jul 03, 2023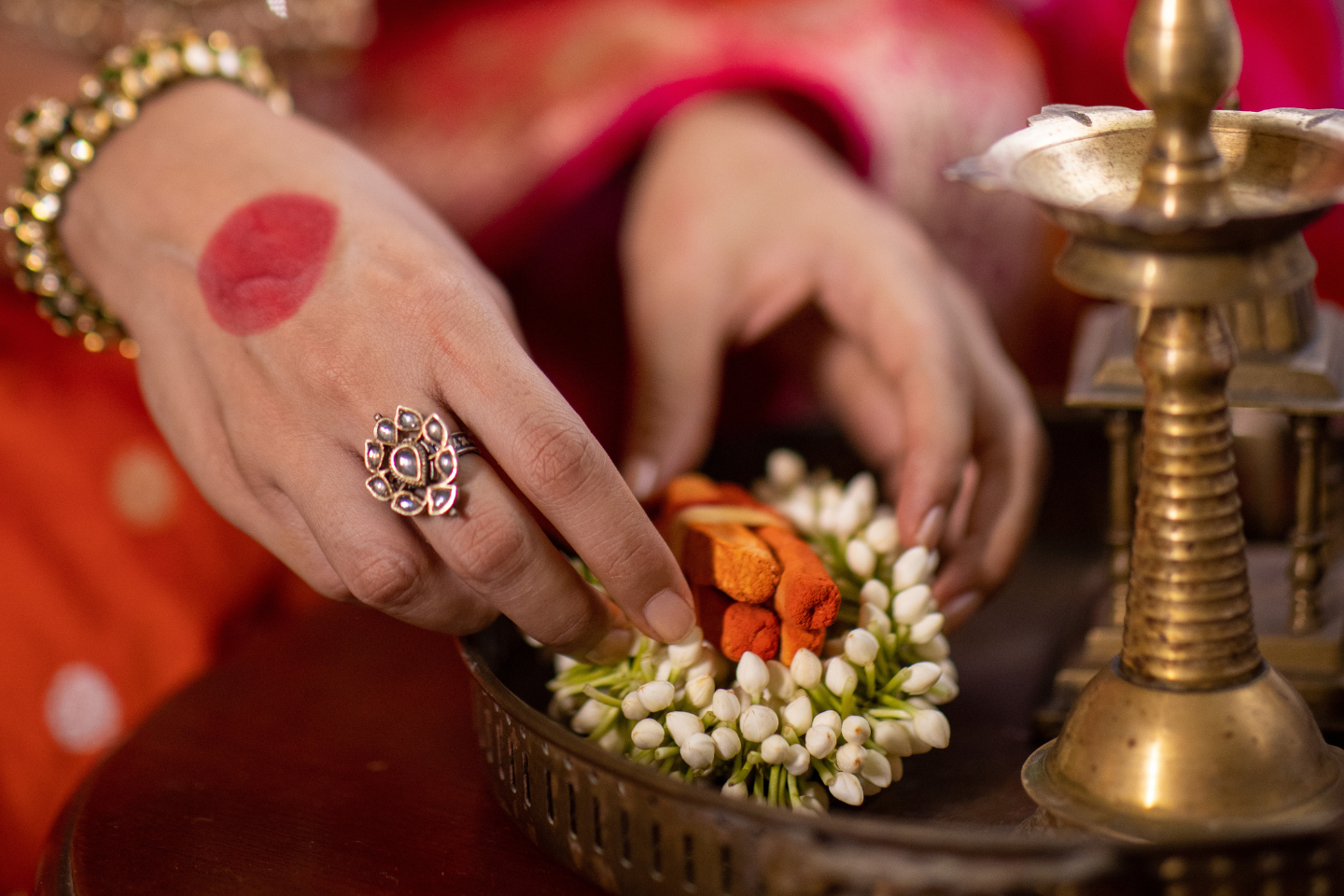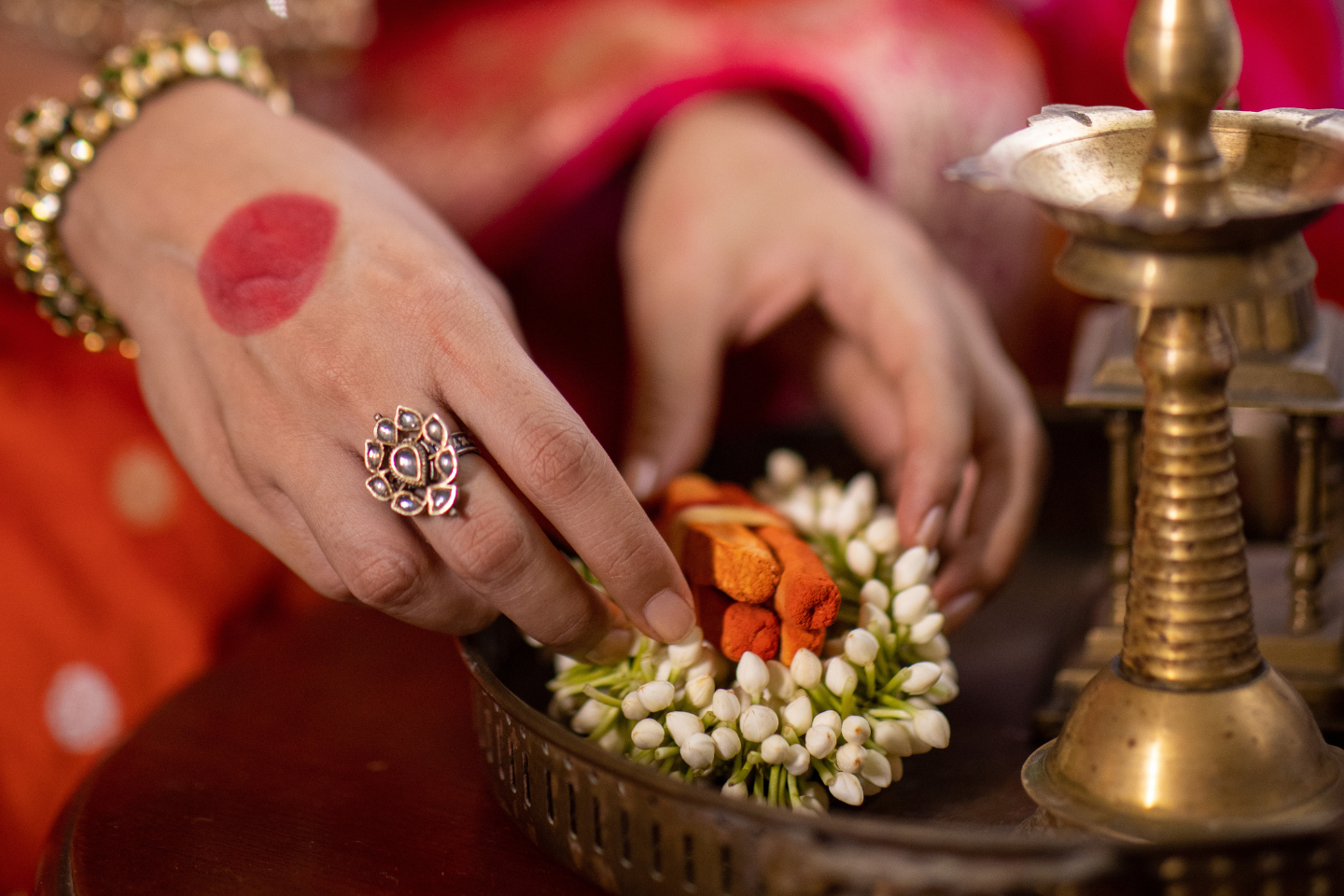 We all know that the allure and grace of an Indian bride is unparalleled. Her wedding day look which she created with her creativity while staying true to the customs and traditions that have been passed down through generations radiates a captivating blend of modern creativity and timeless cultural heritage. With her elegant bridal outfit and exquisite pieces of Indian bridal jewelry, the culturally-rooted bride weaves together a look that reflects her personal style as well as her rich customs. To make sure she never runs out of inspiration and continues to showcase her culture through her brilliant use of colors and Indian bridal jewelry, we have some jewelry ideas for her.
Indian Bridal Jewelry for the Culturally-Rooted Bride
The culturally-rooted bride is colorful and free. She is deeply and proudly traditional and plans her wedding outfit and jewelry with the same spirit. Her vibrant wedding outfit and Indian bridal jewelry reflect her cultural heritage and excellent craftsmanship. So, Indian bridal jewelry with colorful gemstones and intricate motifs is really the perfect choice.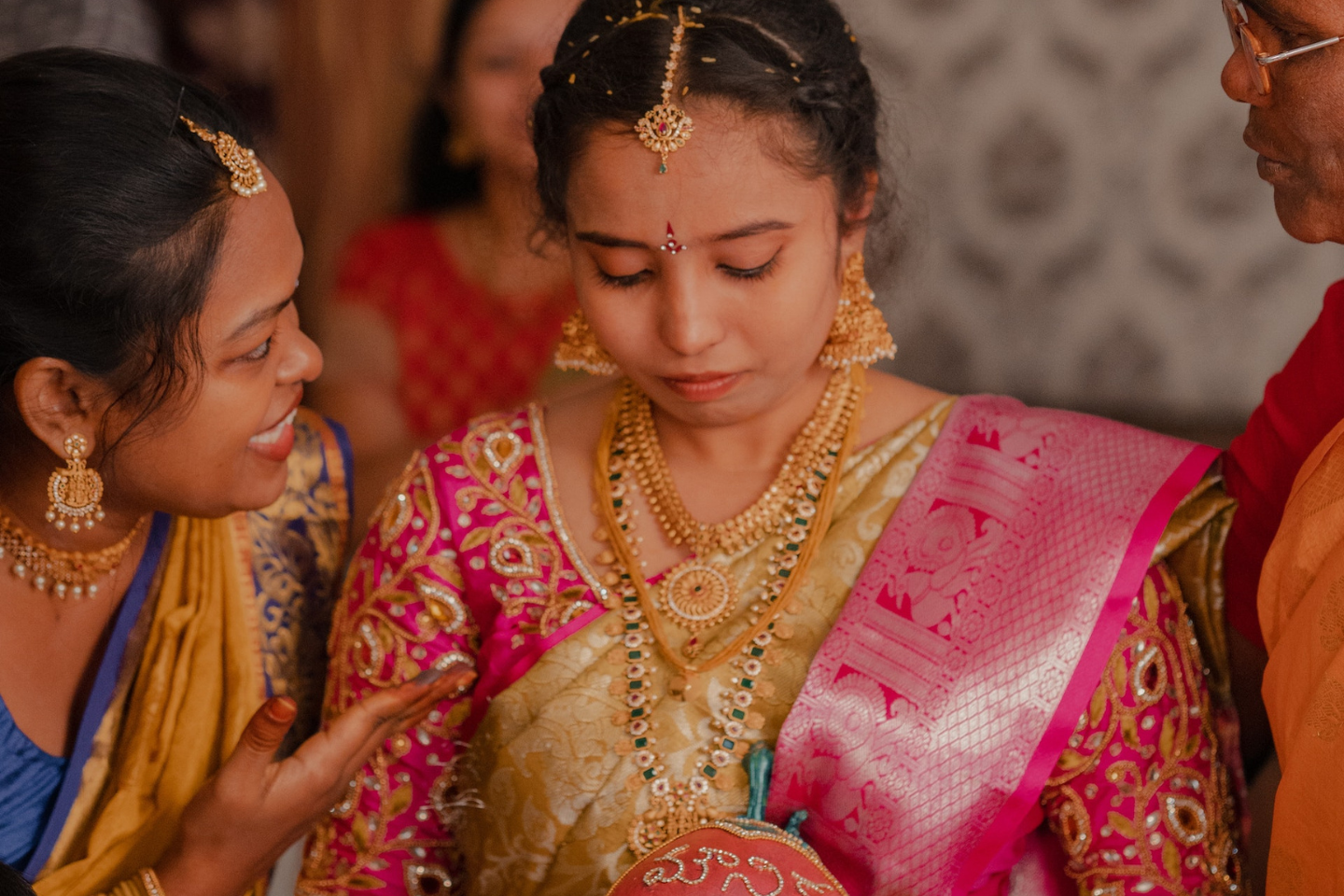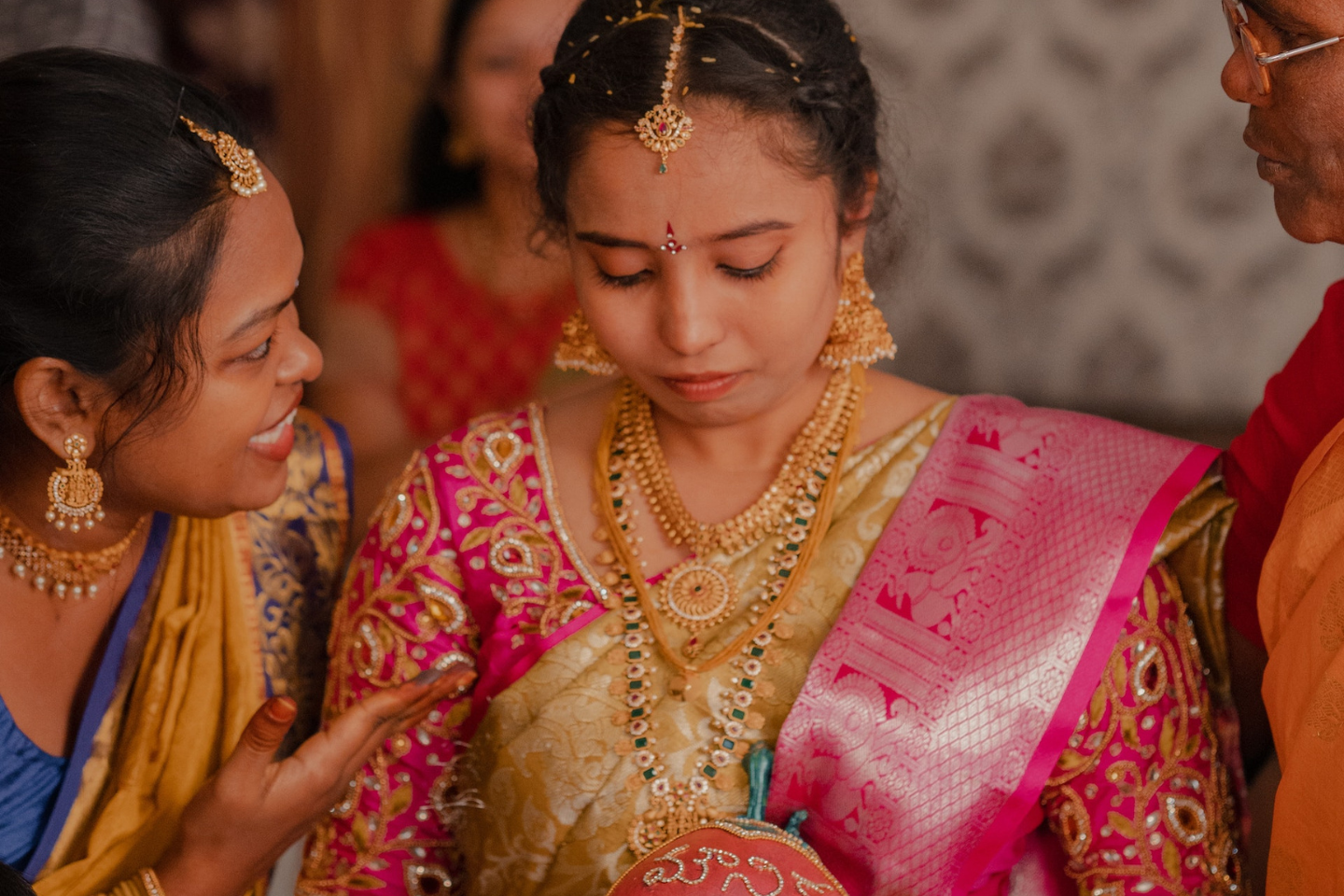 Where Do You Come From?
With your rich culture and tradition, your Indian bridal jewelry can show where you come from and the beauty of your region or community. It can add a personalized touch to your bridal look and make it unique. Pick pieces that highlight techniques and elements that belong to your region or community and pair them with other pieces of Indian bridal jewelry to create a look that is cohesive and highlights your cultural richness.
Keep It Balanced
While picking pieces of your Indian bridal jewelry, make sure they coordinate well with each other in terms of shades and design. While bold and detailed pieces sure add more depth and flavor to the look, they can look crowded together if used poorly. Pick your statement piece and build your look around the colors and theme of that piece. Your look can contain some simple pieces that support the look while your statement pieces stay in the spotlight.
Heirloom Pieces for the Win
Nothing says culture and tradition better than the pieces of Indian bridal jewelry that have been passed down from generation to generation. If you have such a piece, try to incorporate it into your bridal attire. Due to the sentimental value that heirloom pieces carry, your bridal look will be more meaningful and culturally significant and will constantly remind you and everyone else of your great ancestral heritage.
Don't Hold Back
Don't hesitate while celebrating your rich culture and tradition. Pick pieces that clearly show your rich cultural heritage and feature the colors, designs, and motifs that have been passed down through generations. Mix them with other pieces of Indian bridal jewelry and create an interesting look that features both shine and emotions.
Bold Indian Bridal Jewelry for the Bride Immersed in Culture
To make you, the culturally-rooted bride, ace your bold and brilliant bridal look, you'll need the right pieces of Indian bridal jewelry. Let's look at what you'll need to embellish your wedding outfit right.
Magnificent Maangtikas
Every bride wears the maangtika with her bridal attire but there's something special about the culturally-rooted bride. A strong hint of radiant red rubies and glossy green emeralds can be seen in the pieces of Indian bridal jewelry she wears and it's the same when it comes to the maangtika.
The maangtika rests on the top and is one of the first things that one notices when one looks at the bride. So, while picking your maangtika, look for colors that blend well with your bridal ensemble. A flower motif or a bird motif is sure to add some more flavor to the piece of Indian bridal jewelry and make the piece more noticeable.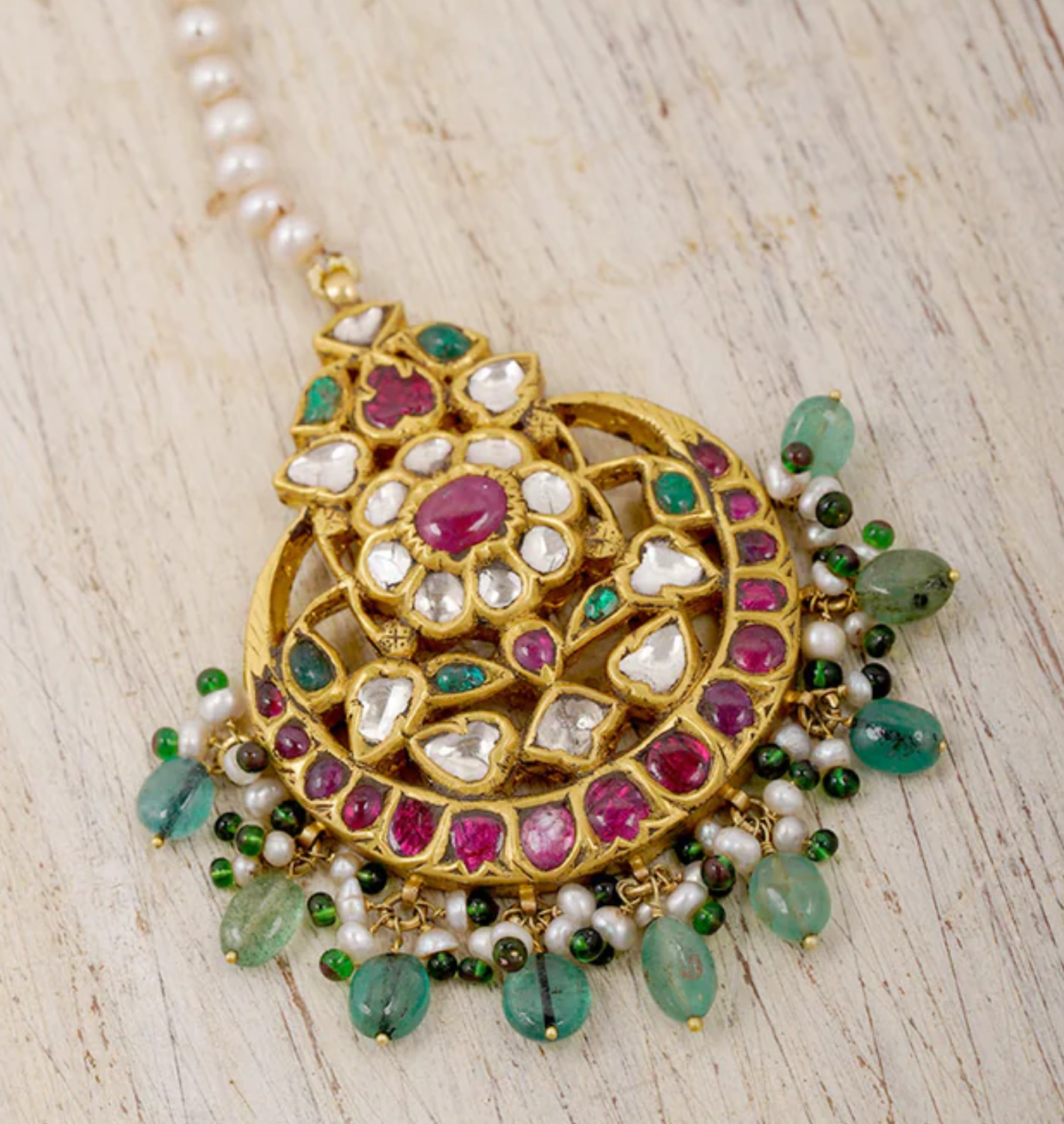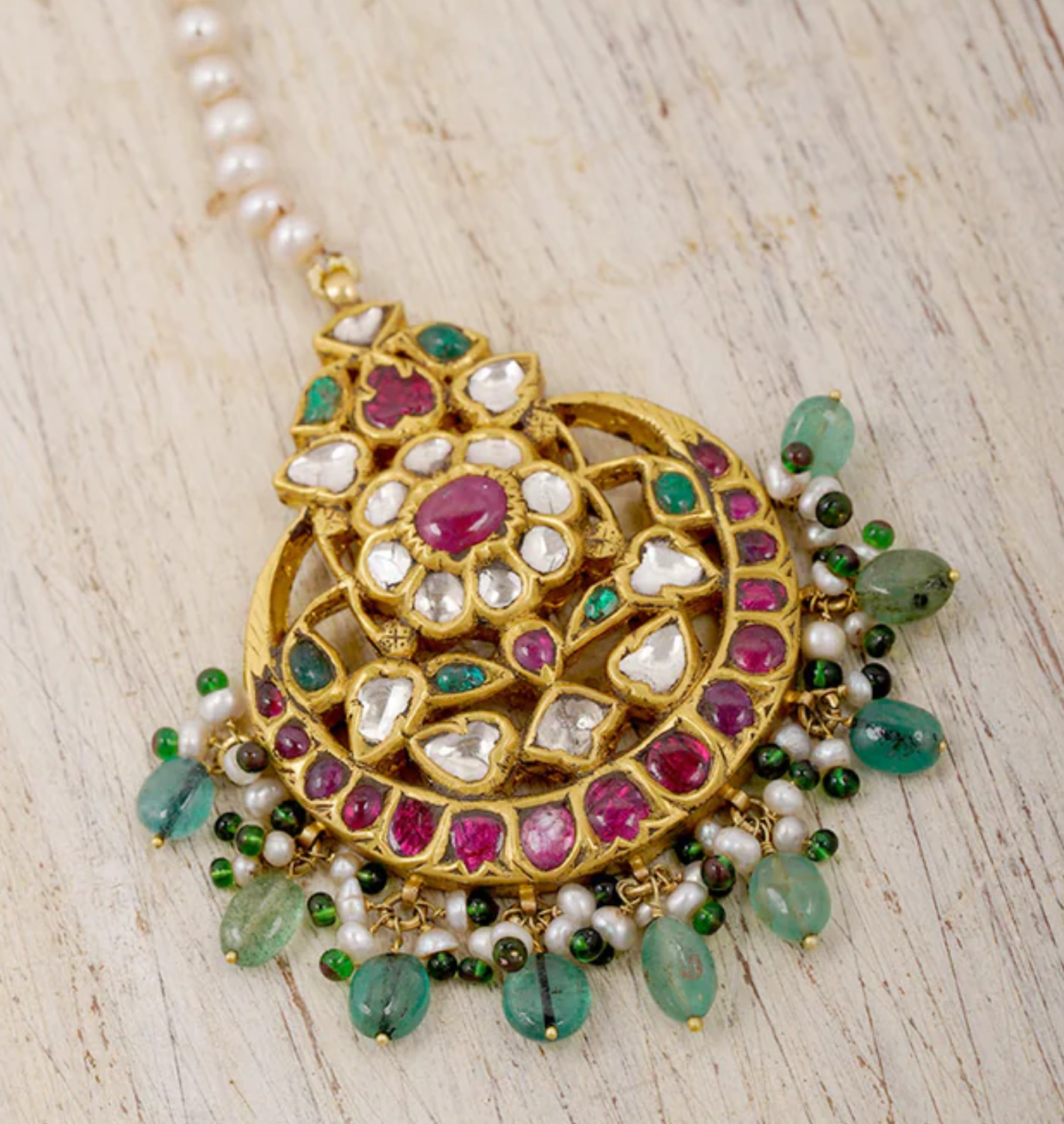 Opulent Earrings
No bridal look is complete without a pair of earrings. And for a bride who celebrates her tradition and culture, the right set of earrings can take her bridal look a step closer to perfection.
Remember the maangtika you picked? Your earrings can follow the same theme. This will result in a cohesive look and will help you pick pieces of Indian bridal jewelry that complement each other well. Apart from the gemstones, pearls can be a great addition and amp up your earrings by adding a layer of sophistication to the piece.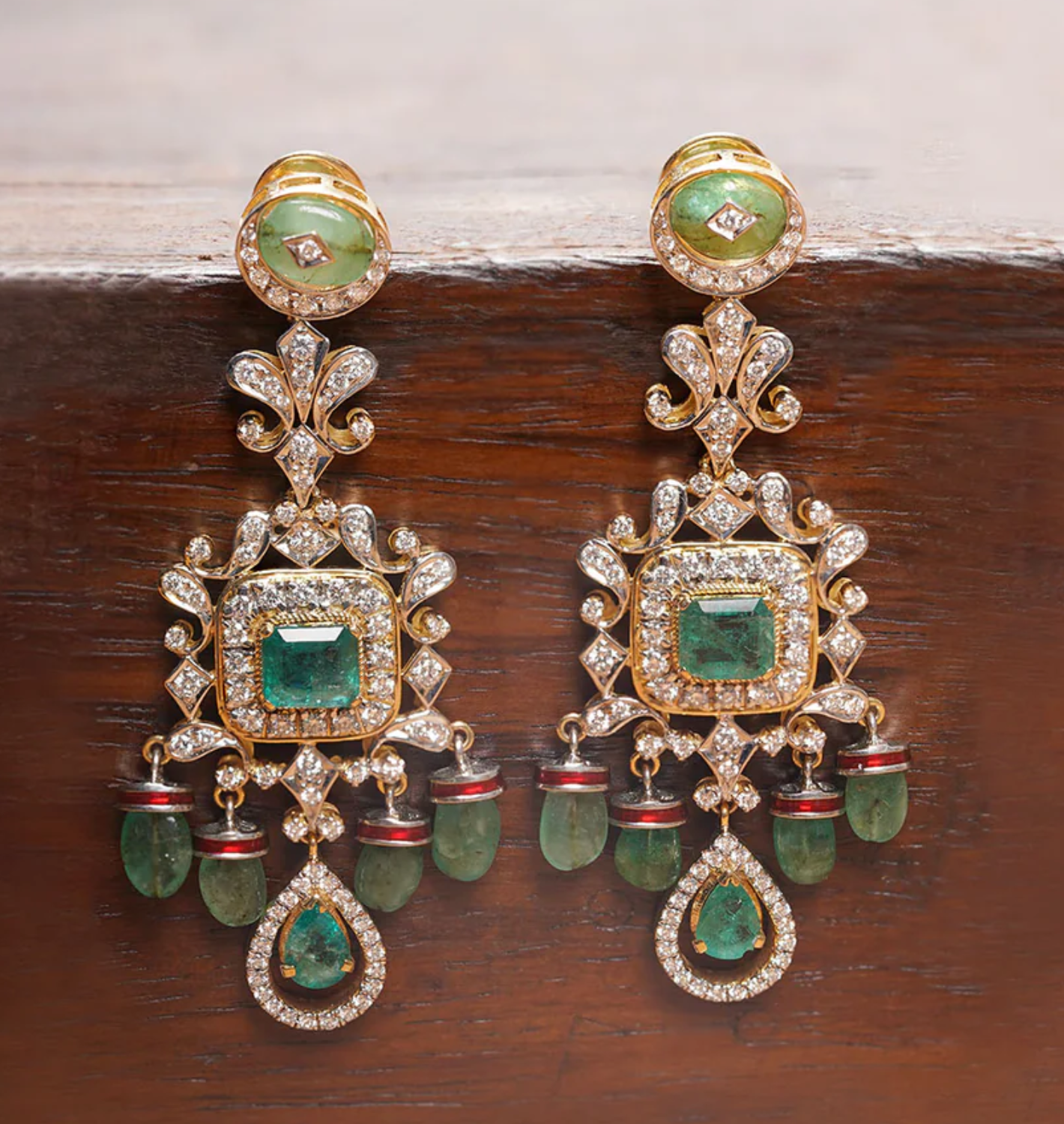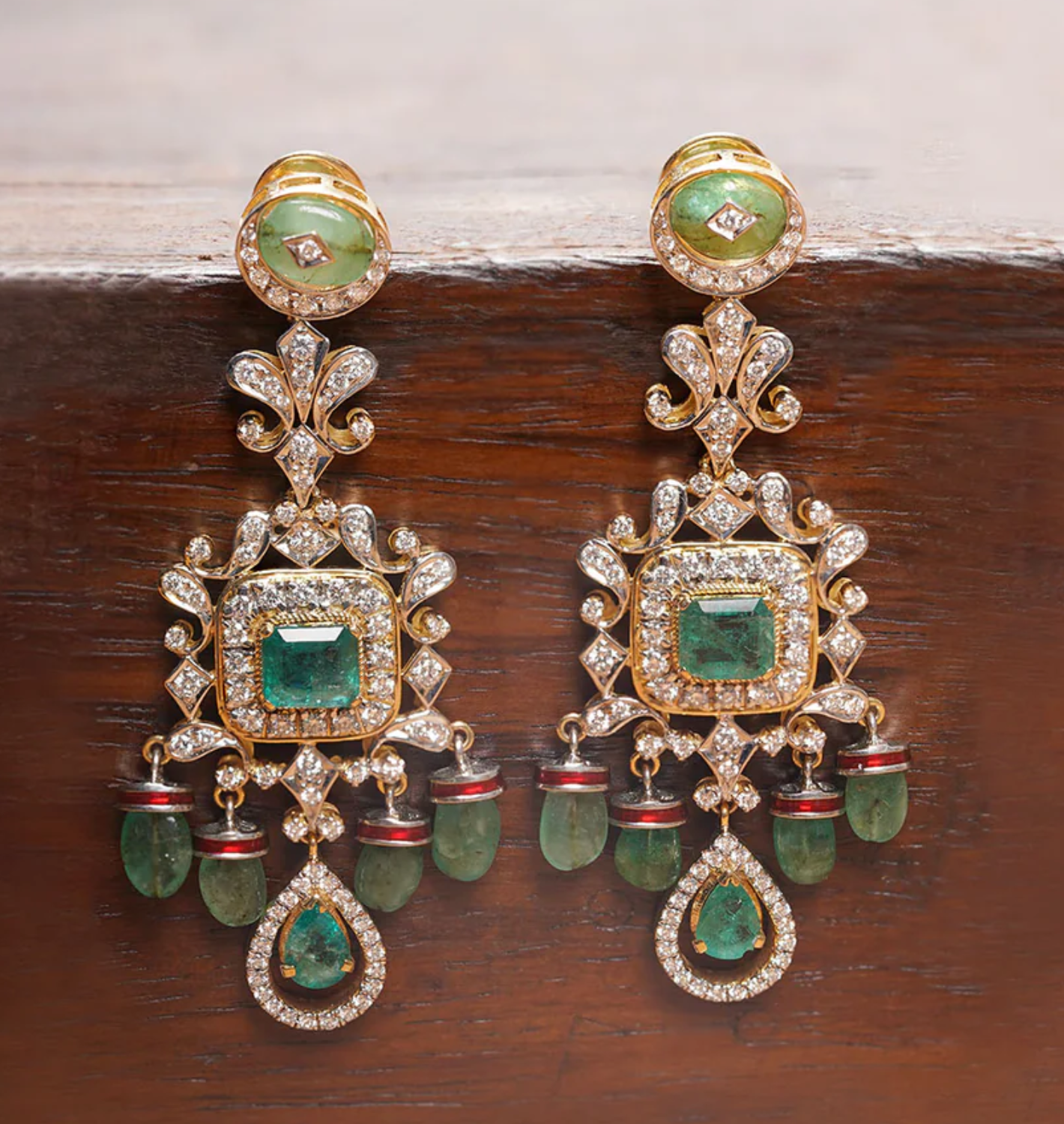 Grandiose Necklaces
A necklace can easily make or break the look. So, knowing what your traditional look needs can be very helpful. The best part is, you have so much to choose from.
Let's start with the basics here. You can play it safe by picking the same gemstones and designs as the other pieces of your Indian bridal jewelry. This way the pieces will definitely team up well and you'll have a bridal look that is well put together. Another approach is going bold and picking a statement piece that steals the spotlight. This can contain a necklace encrusted with exquisite polki diamonds and radiant gemstones that steal the show.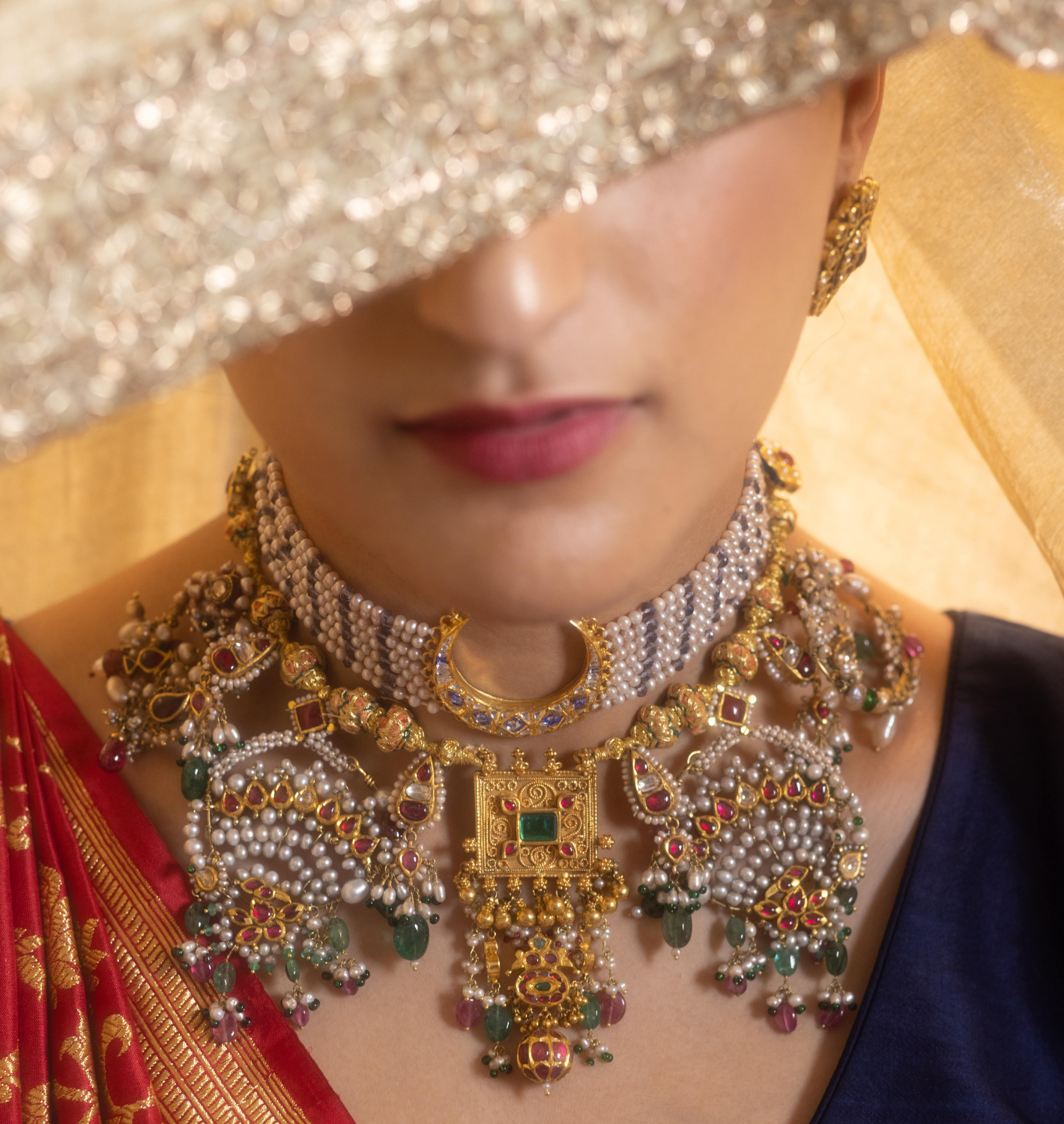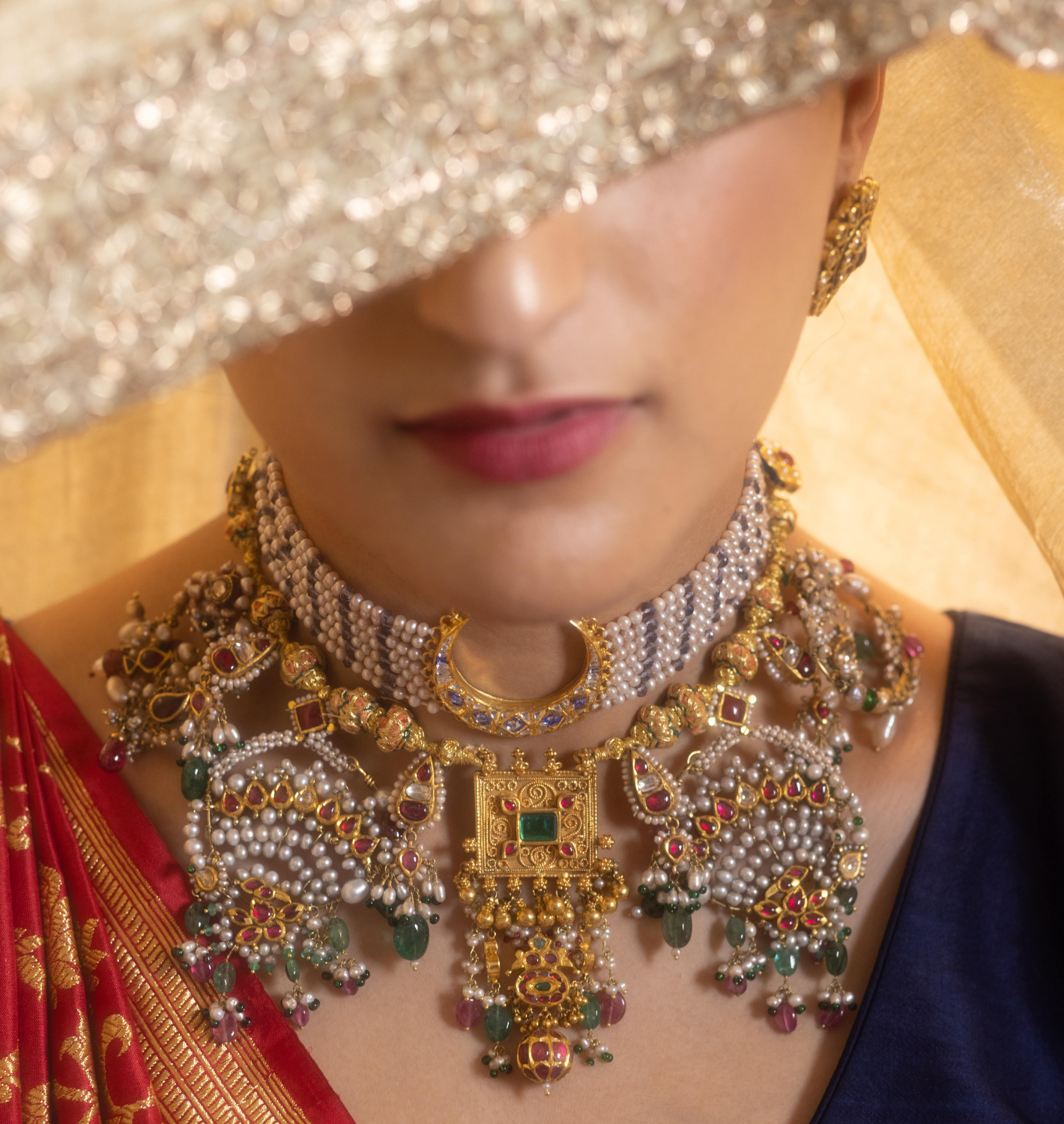 Ornate Choker Necklaces
The one thing that can take your necklace's shine to a whole new level is the choker. If you're creating layers with your necklaces, including a choker in the mix can do wonders.
Pick a choker that goes well with your Indian bridal necklace. You can also make it your statement piece and use the necklaces to support the look. With the right choker, you'll be able to embellish your bridal outfit effortlessly and radiate a regal charm that perfectly complements your culturally-rooted bridal look.
Traditional Bangles and Bracelets
Nothing speaks tradition and culture better than a set of intricate bangles to go with your bridal outfit. Bangles and bracelets are an indispensable part of an Indian woman's attire and there are various ceremonies related to bangles and bracelets across cultures in Indian weddings.
To create an interesting stack, you can pick a set of bangles to go with your traditional chooda. This will add a unique touch to your bracelet or bangle stack while including the traditional chooda in the look.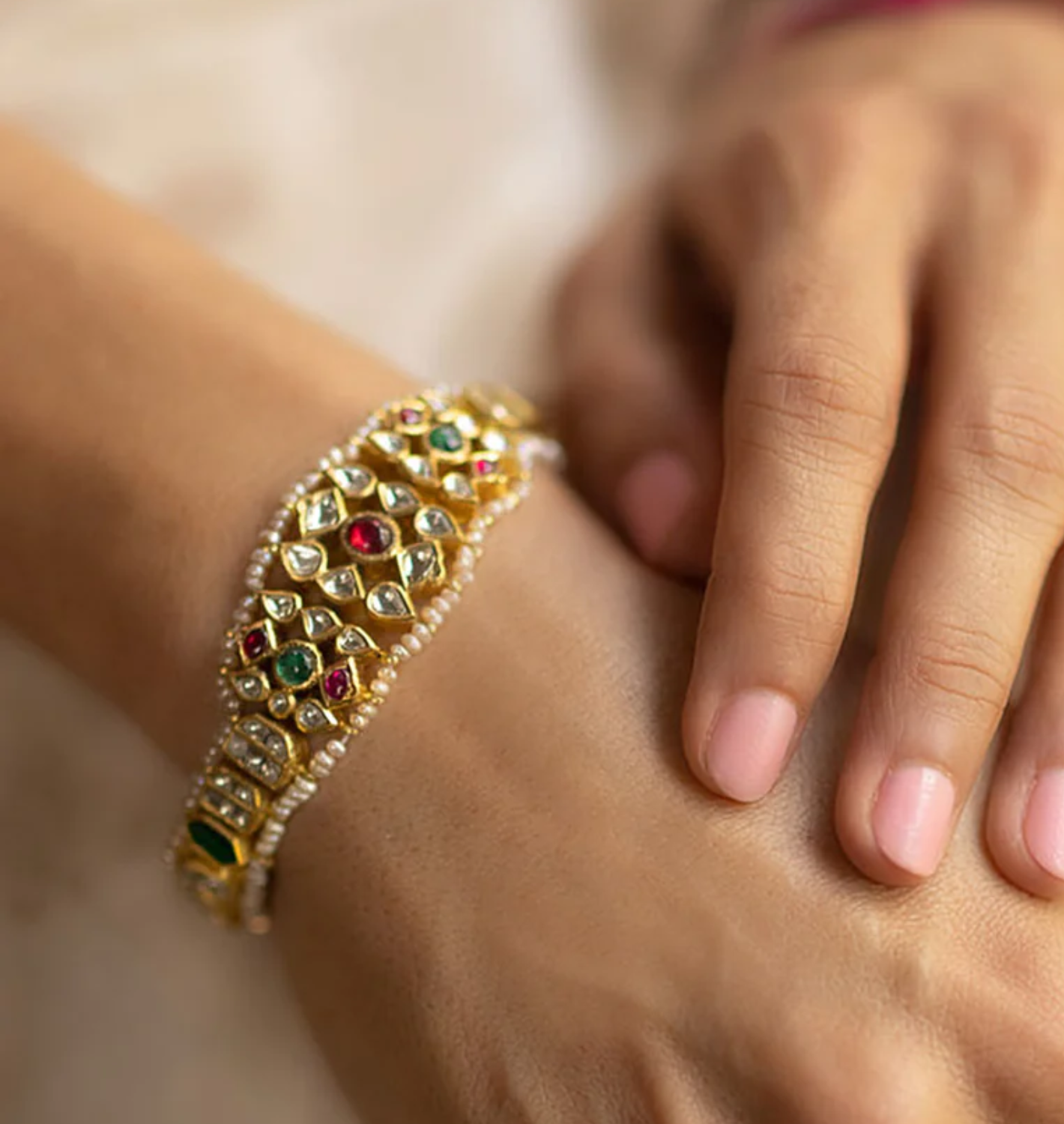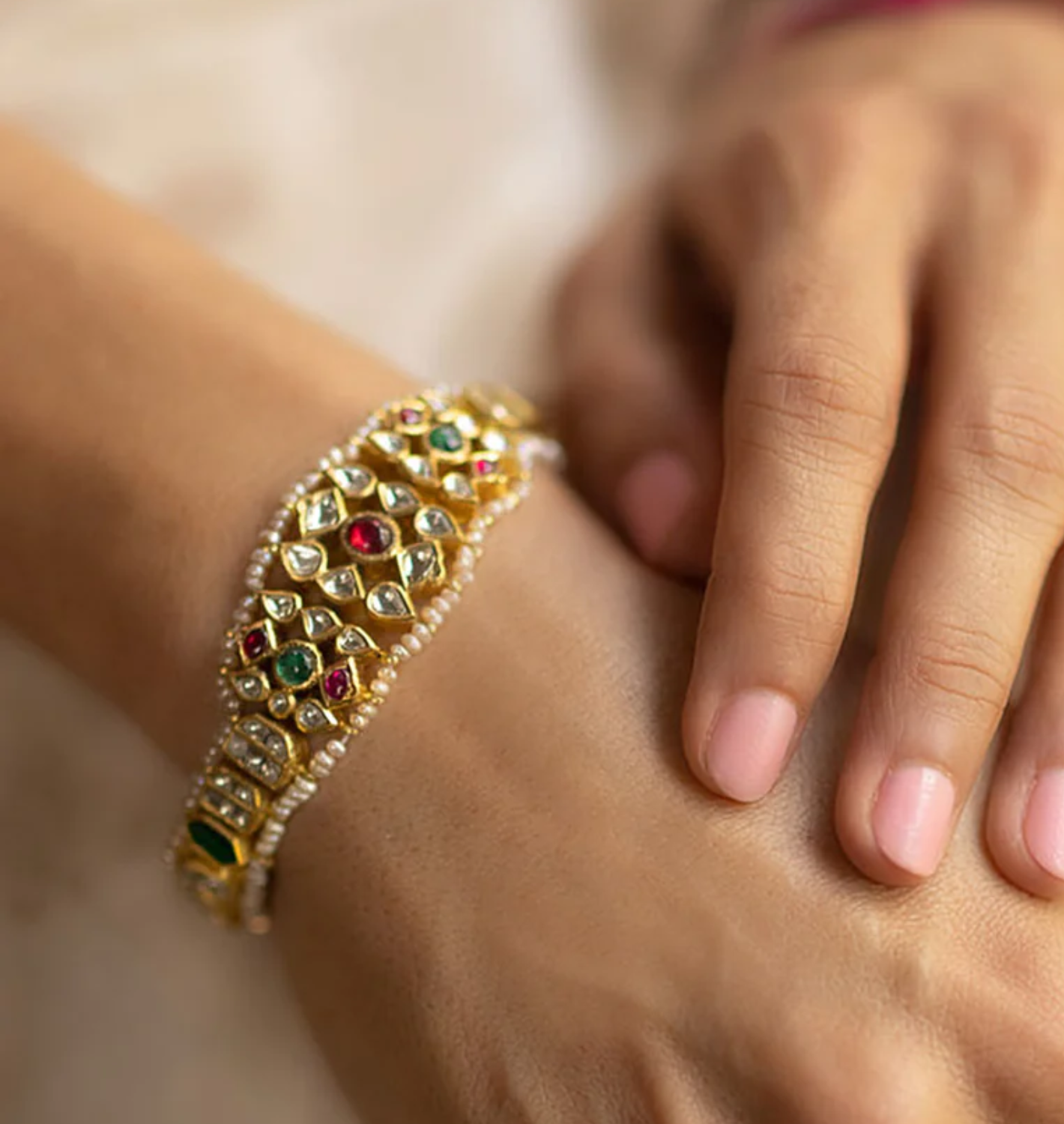 Apart from these pieces, you can include other pieces of Indian bridal jewelry such as the nath, bajuband, anklets, and other adornments from the Solah Shringar to further enhance your culturally-rich bridal ensemble.
With these pieces and tips, you'll be able to create a vibrant and culturally-rich bridal look that reflects your personal style and your beliefs as well as tells your story. To look for some timeless pieces of Indian bridal jewelry to adorn your bridal outfit, check out our Benaras Indian bridal jewelry collection.
Read more from our
journal