Heavy or Minimal? Tips To Choose Indian Bridal Jewelry That Speaks to You
Published:
Thu, Nov 09, 2023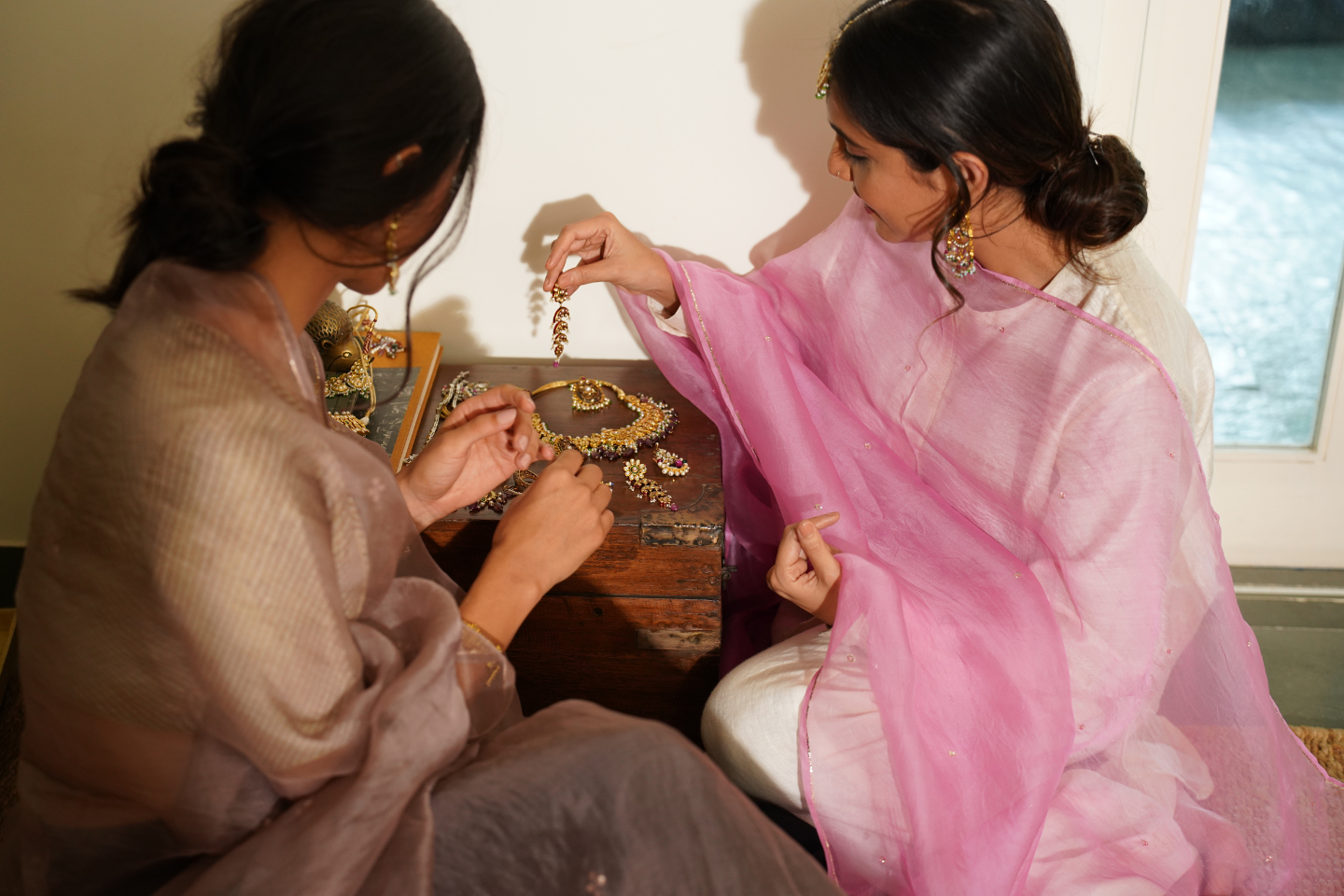 When striving to create a captivating Indian bridal jewelry look for your special day, you might ponder on the delicate balance of how much is too much. It's no surprise if you prefer a minimalistic approach but still want to craft a look that leaves a lasting impression. On the other hand, you may lean towards a bolder, extravagant style without going overboard.
For every woman, her Indian bridal jewelry holds immense significance as a crucial element of her bridal trousseau. Beyond mere aesthetics, Indian bridal jewelry carries profound cultural meaning. It is believed that what you wear on your wedding day bestows divine blessings upon your marriage.
Many brides choose to cherish and adorn heirloom pieces, and if you're among them, we're genuinely happy for you. However, if you're someone seeking Indian bridal jewelry that reflects your personal style, then we'll explore some tips that will help you curate an ensemble to shine like a diamond on your special day.

Complementing Your Bridal Outfit
Your wedding outfit and Indian bridal jewelry are a match made in heaven, both incomplete without each other. Hence, while selecting your bridal jewelry, it's essential to consider how well it complements your chosen outfit. This leaves you with two ways, either harmonizing the jewelry with the outfit details to achieve a grand look or go for contrasting choices.
The synergy between your Indian bridal jewelry and your outfit is akin to a beautifully choreographed dance. With heavy bridal outfits like intricately embroidered lehengas or richly embellished sarees, you have the canvas to carry heavy jewelry. This combination exudes a sense of grandeur, creating a balanced aesthetic that's both stunning and harmonious.
On the flip side, if you've chosen an elaborate bridal attire, consider the elegance of minimalistic Indian bridal jewelry. A statement necklace with subtle earrings can create a striking contrast, allowing your outfit to take center stage. This choice is particularly popular with gowns or contemporary lehengas, where the jewelry acts as an accentuating touch rather than a focal point. The juxtaposition of minimalistic jewelry against ornate clothing evokes a sense of refined sophistication.
Considering the Wedding Theme and Venue
The setting of your wedding plays a pivotal role in determining the weight and style of your jewelry. For traditional indoor weddings, heavy Indian bridal jewelry fits perfectly, adding a touch of classic grandeur. The ornate designs and intricate craftsmanship align seamlessly with the regal ambiance of such weddings.
For outdoor and destination weddings, however, lighter options shine. Opt for Indian bridal jewelry that resonates with the ethereal ambiance.. Delicate pieces that capture the natural light and exude a breezy charm can make you look like a goddess amidst nature's beauty.
Fusion weddings present an exciting opportunity to blend heavy and minimal styles. Pairing traditional Indian bridal jewelry with a contemporary twist can reflect the merging of cultures and styles in your wedding, creating a truly unique and memorable look.
Reflecting on Personal Style and Comfort
Your wedding day is about you, and your jewelry should resonate with your personal taste. When you're comfortable with what you're wearing, your confidence shines through, making you the most radiant presence in the room. If you're not accustomed to wearing heavy Indian bridal jewelry, it's okay to opt for lighter options that won't compromise your comfort, choose pieces that align with your style.
Striking the perfect balance between heavy and minimalistic jewelry is not just about aesthetics; it's about comfort too. Consider the weight of your Indian bridal jewelry, especially if you're not accustomed to wearing heavy pieces and adore minimalism in everyday life. There's no rule stating you can't carry that into your bridal look.
Consider any potential comfort issues, especially concerning weight and allergies. While heavy Indian bridal jewelry might look stunning, ensure it's manageable to wear for extended periods. If you're prone to metal allergies, prioritize hypoallergenic materials for a hassle-free day.
Selecting the right Indian bridal jewelry involves a careful dance of style, comfort, and aesthetics. Whether you choose heavy or minimalistic pieces, remember that your jewelry is an extension of your personality and a symbol of the beautiful journey you're embarking upon. You can curate a bridal jewelry ensemble that is uniquely you. As you walk down the aisle adorned with your chosen pieces, you'll not only look stunning but also carry the blessings of tradition and your own individuality into your new chapter of life!
Read more from our
journal