Diamonds in Indian Fine Jewelry: How To Choose the Perfect Diamond for Your Style
Published:
Tue, Aug 22, 2023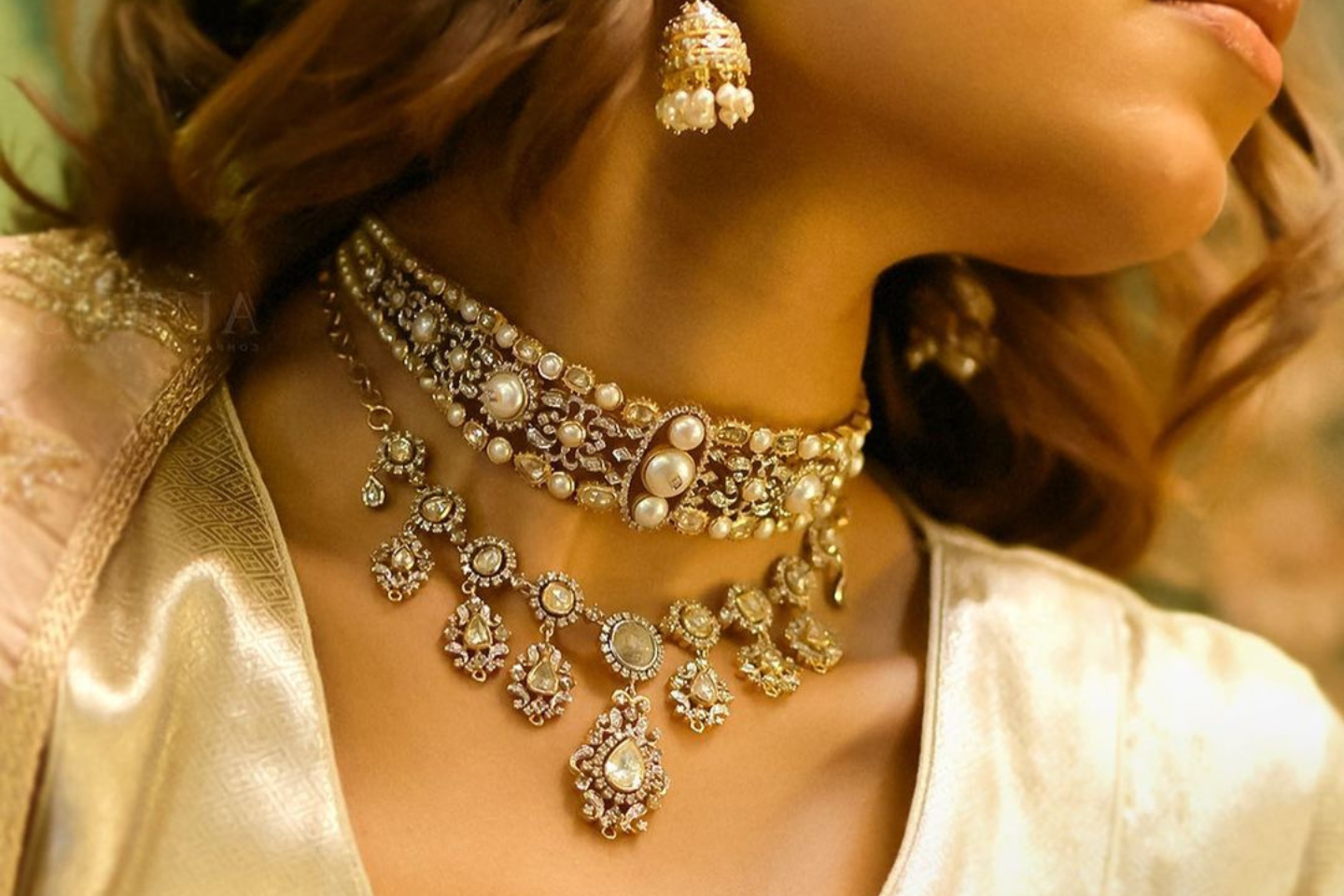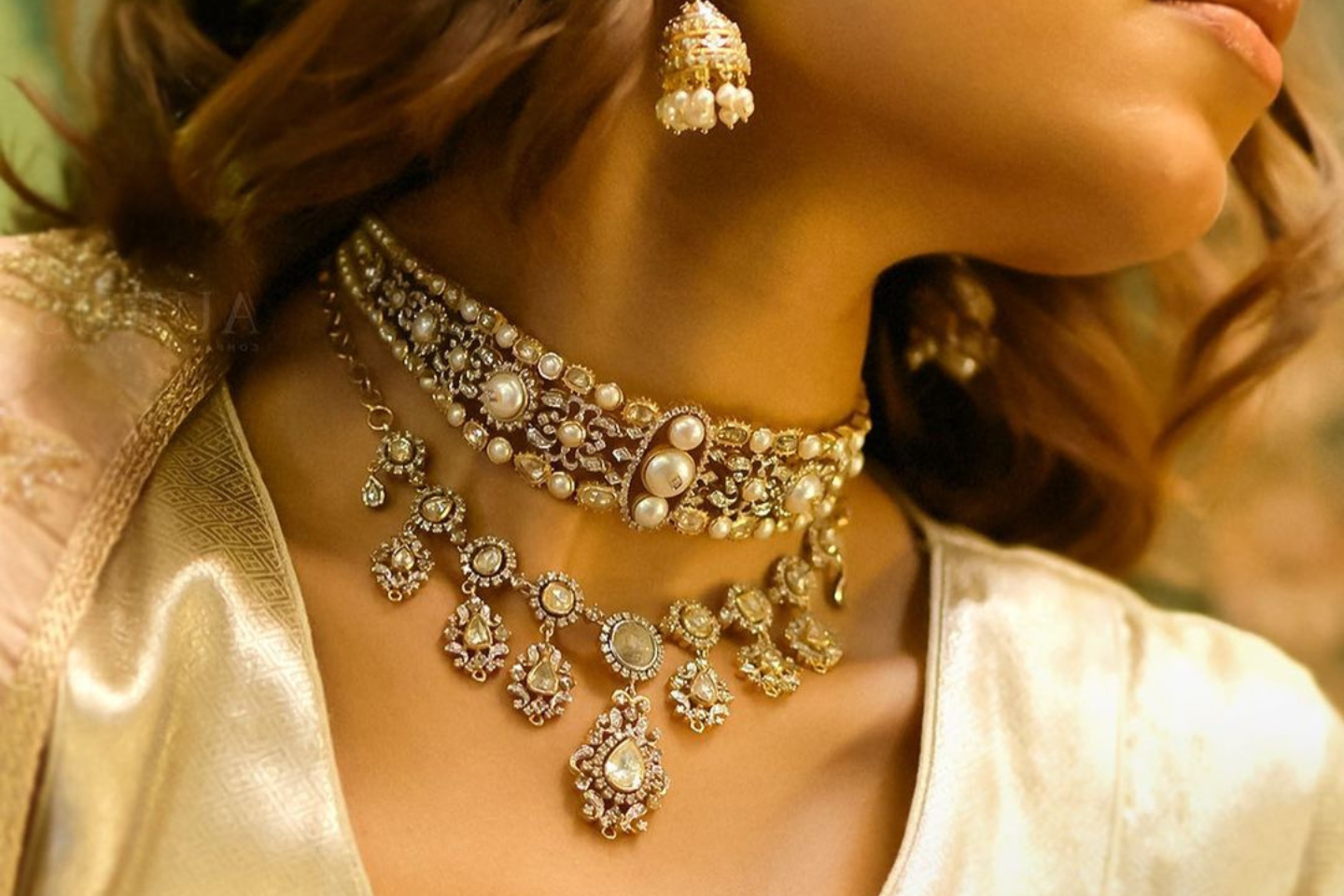 Diamonds radiate love, auspiciousness, novelty, grace, and wealth, making them an iconic symbol. When adorning Indian fine jewelry, diamonds bestow a regal aura upon the bride. And it's no wonder you're contemplating acquiring exquisite diamond ornaments for your bridal fine jewelry collection this season. Diamonds work their magic on both everyday ensembles and special occasions, elevating your style to new heights. Discovering diamonds that perfectly complement your fashion choices adds the perfect finishing touch. Hence, we present to you this essential guide!
Radiant Variety: Discovering the Diverse Diamonds in Indian Fine Jewelry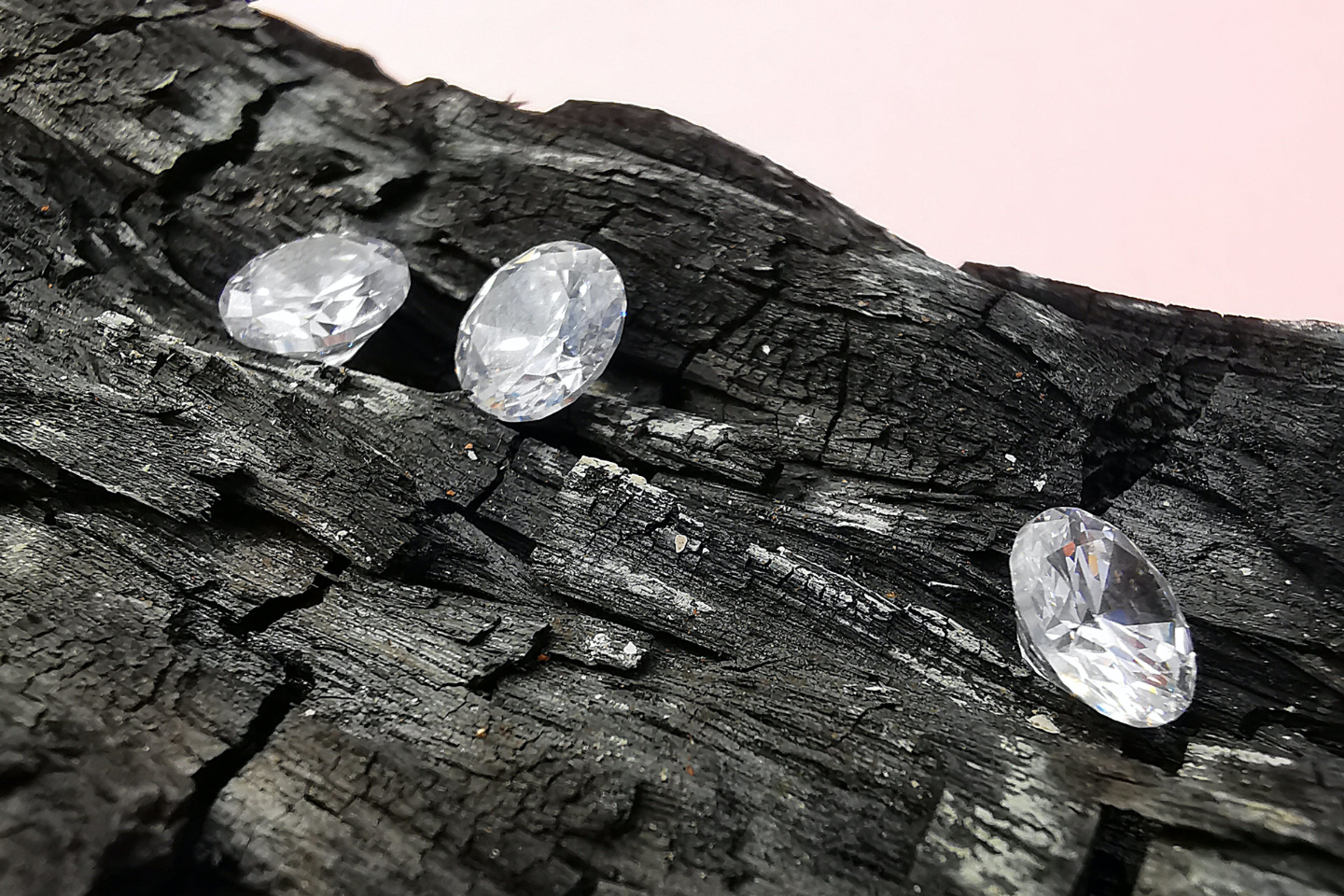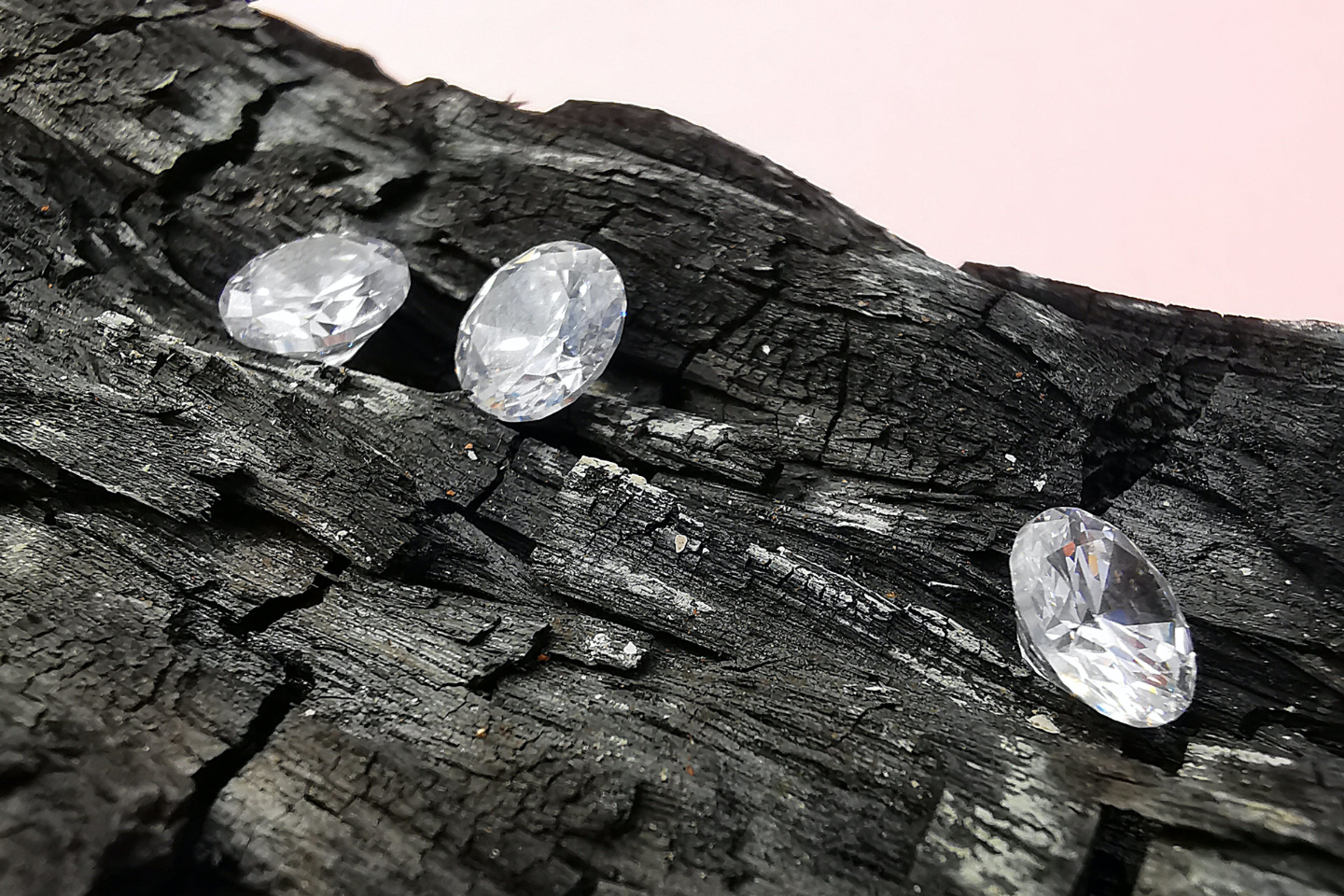 Diamonds have earned a reputation as precious gemstones for various reasons. Apart from their captivating sparkle, they are renowned for their exceptional toughness. Categorically, diamonds can be grouped into four categories based on their appearance:
Natural Diamonds: These diamonds lack the typical sparkle associated with jewelry. They are white and maintain this state immediately after being mined.
Treated Diamonds: Usually, natural diamonds undergo various treatments to enhance their attractiveness. Common treatments include inclusion filling, surface polishing, and color enhancement procedures.
Man-made Diamonds: Also known as lab-grown diamonds, these have gained popularity among women investing in Indian fine jewelry. Notably, they are considered environmentally friendly and more affordable.
Professionally, diamonds are classified into types Ia, IIa, Ib, and IIb. Furthermore, they come in different colors such as white, colorless, slightly tinted, yellow, and brown tinted.
Now that we have acquainted ourselves with the types of diamonds used in Indian fine jewelry designs, let us delve into the reasons behind the auspiciousness attributed to diamonds in this context.
Exploring the Magic of Diamonds in Indian Fine Jewelry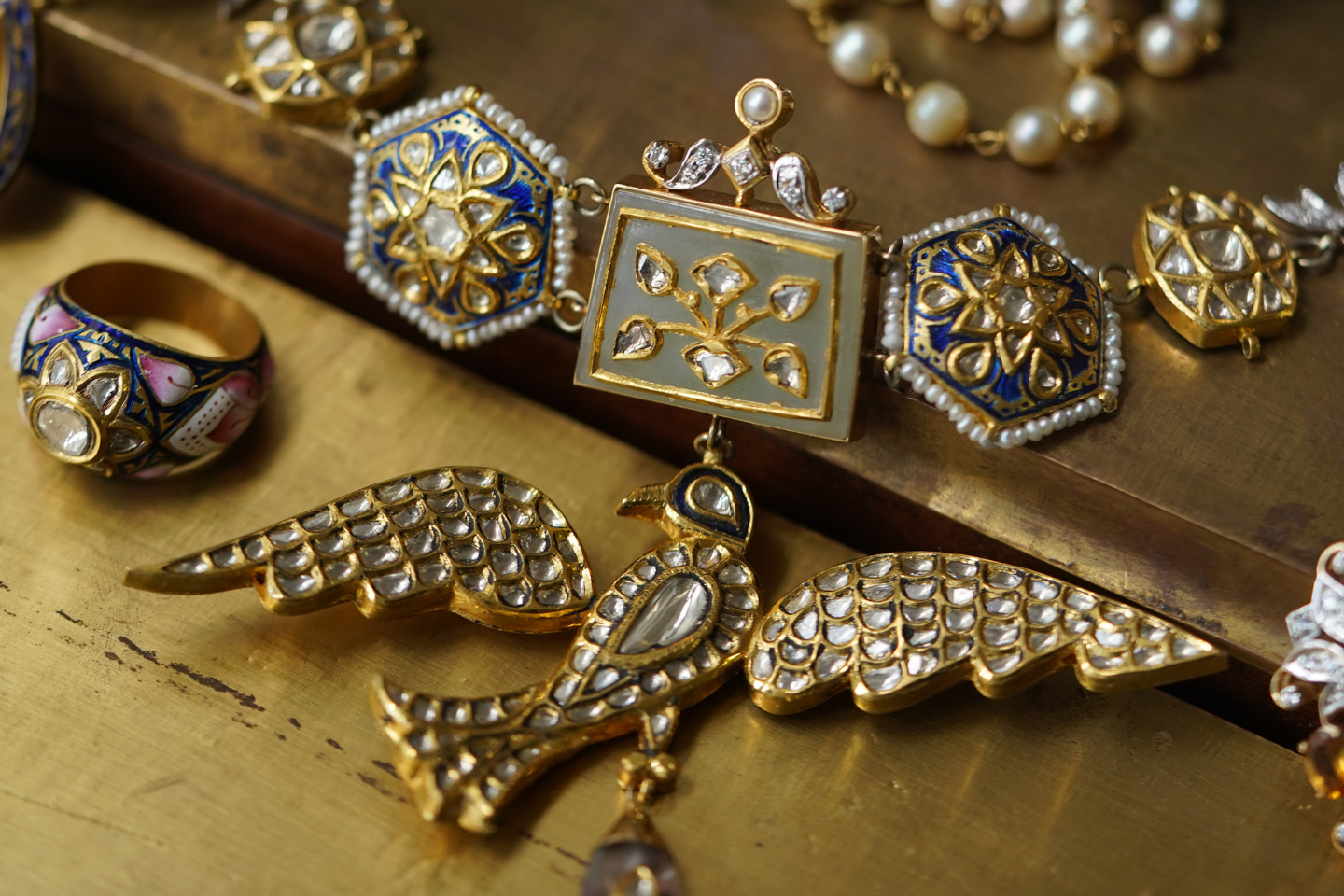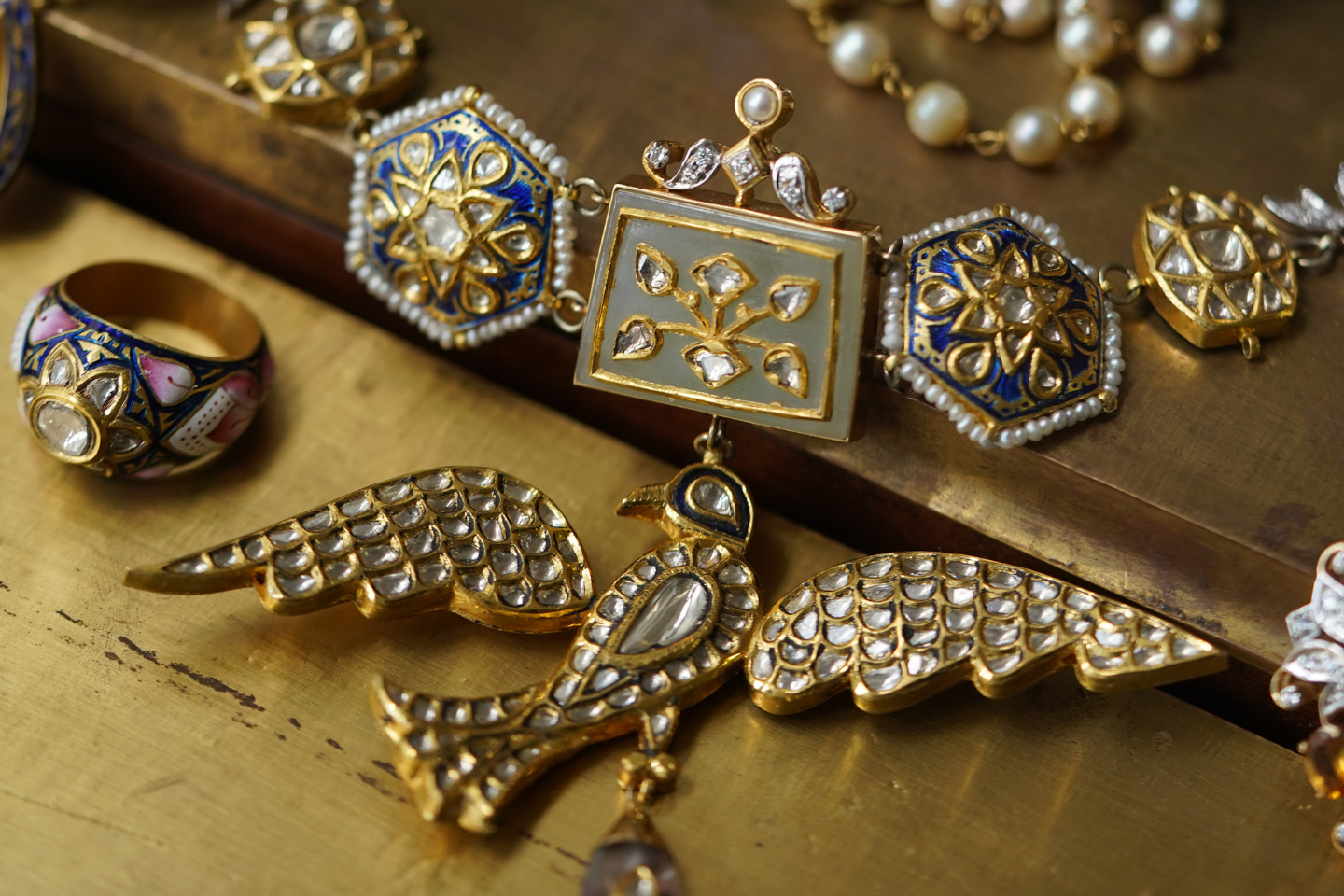 Shaheen Necklace by Aurus
Diamonds have graced Indian bridal jewelry, radiating brilliance and captivating allure. They symbolize wealth, prosperity, love, and the sacred union of two individuals. In certain families, they are revered as divine blessings. The discovery of natural diamonds dates back to the 8th century BCE.
In Indian culture, diamonds are believed to bring forth prosperity and fortune to those who wear them. Venus, the planet associated with love and romance, is also thought to bestow fame and financial success upon women adorned with diamond-studded Indian fine jewelry.
Additionally, diamonds are believed to enhance creativity. They are considered auspicious not only in Indian culture but also in other ancient civilizations such as Greek, Egyptian, and Roman. Romans regarded diamonds as fragments of the gods, while in Greek mythology, they were believed to be created by a young man named Adamas as an antidote to poisons, symbolizing the gemstone's indestructibility.
Tips for Selecting Diamond-Studded Indian Fine Jewelry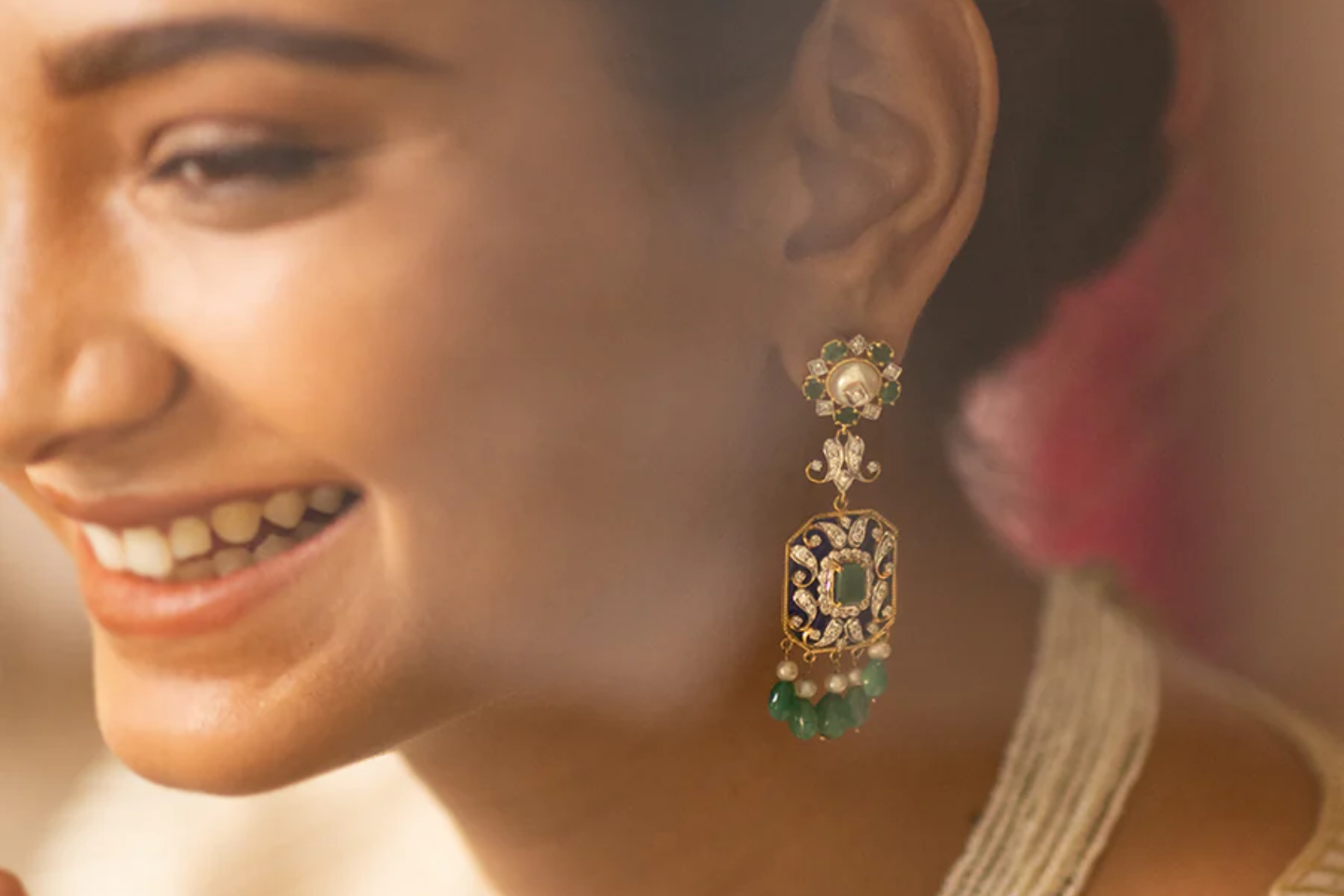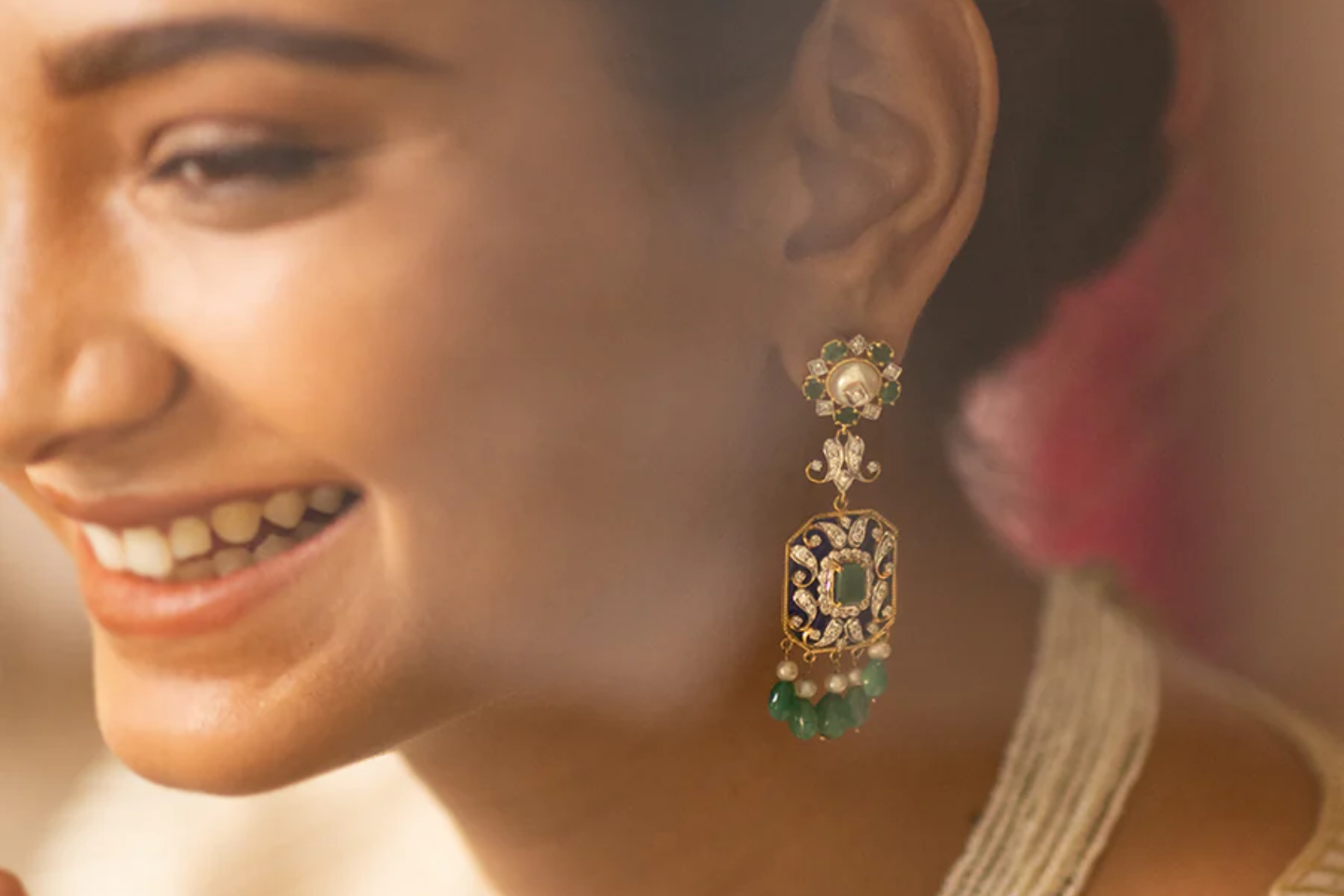 Gayatri Earrings by Aurus
Although diamonds are revered as symbols of beauty, we do not recommend pairing diamond jewelry with any outfit indiscriminately. The true essence of diamonds lies in their ability to complement your overall look rather than steal the spotlight. In this segment, we will discuss essential tips for selecting diamond Indian fine jewelry that harmonizes with your outfits. When considering which diamond Indian fine jewelry design suits your outfit, it is important to understand how color schemes work in creating a pleasing aesthetic.
While black attire pairs well with gold jewelry and onyx-adorned pieces complement white dresses, diamonds generally complement any outfit color, especially white diamonds. If you opt for a tinted yellow diamond, cool-toned outfits can be an excellent choice.
It is generally suggested that diamond-studded Indian fine jewelry designs complement dark-colored outfits more effectively than neutral tones. The occasion also plays a significant role in determining the perfect diamond jewelry. For everyday or office attire, simple diamond studs are a great choice, while for a wedding or formal event, diamond necklaces, earrings, or even a choker can be worn.
The neckline of your outfit should also be taken into account when selecting diamond jewelry. For example, a Y-shaped or V-shaped diamond pendant would complement a V-shaped neckline, while a choker or structured necklace would enhance a square neckline.
While it may be tempting to accessorize your attire on a special occasion with a big diamond ring, we recommend opting for a subtle and classic ring instead of a more extravagant design if you do not have an engagement announcement and desire to maintain a balanced overall look.
Selecting the Ideal Cuts for Your Jewelry Collection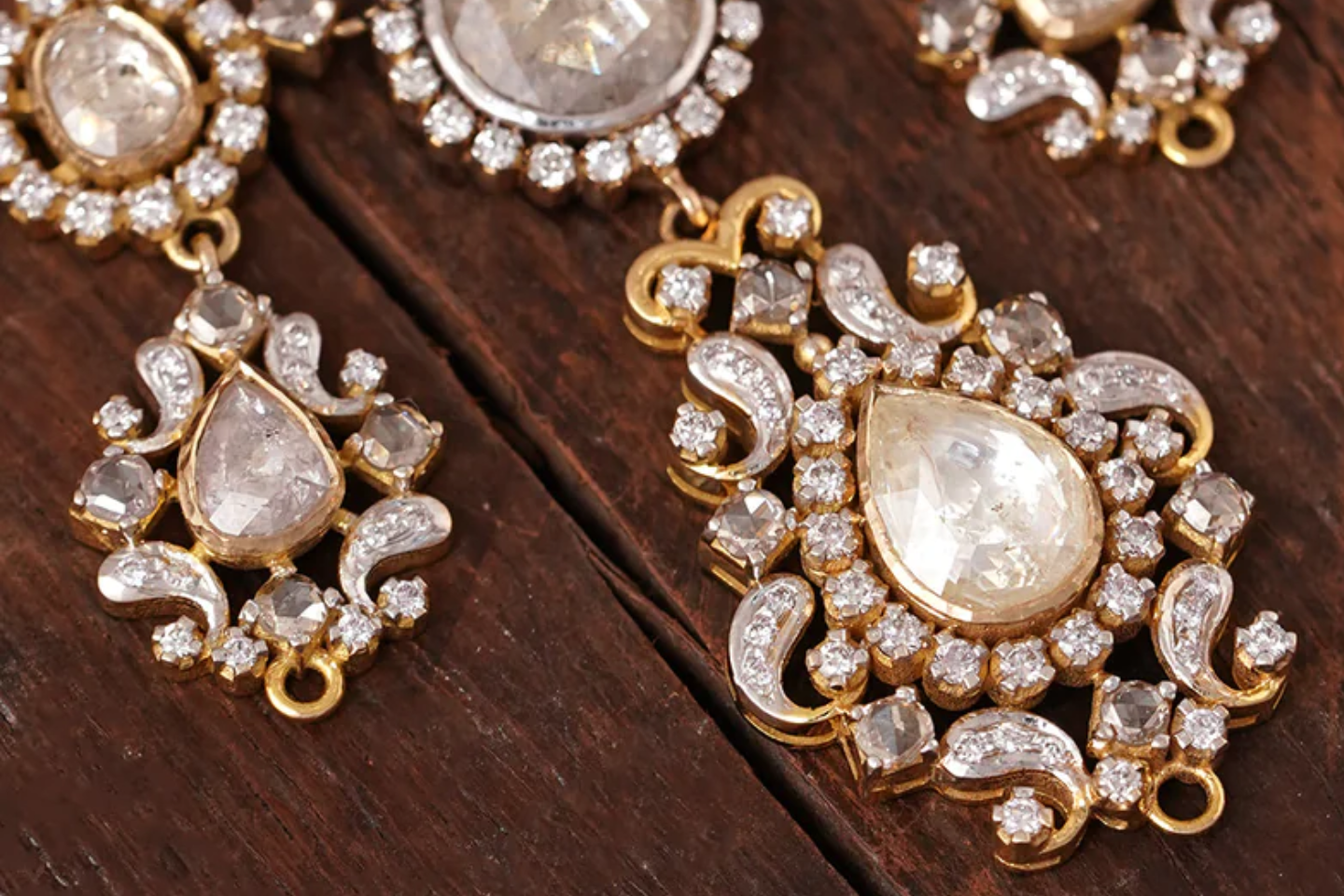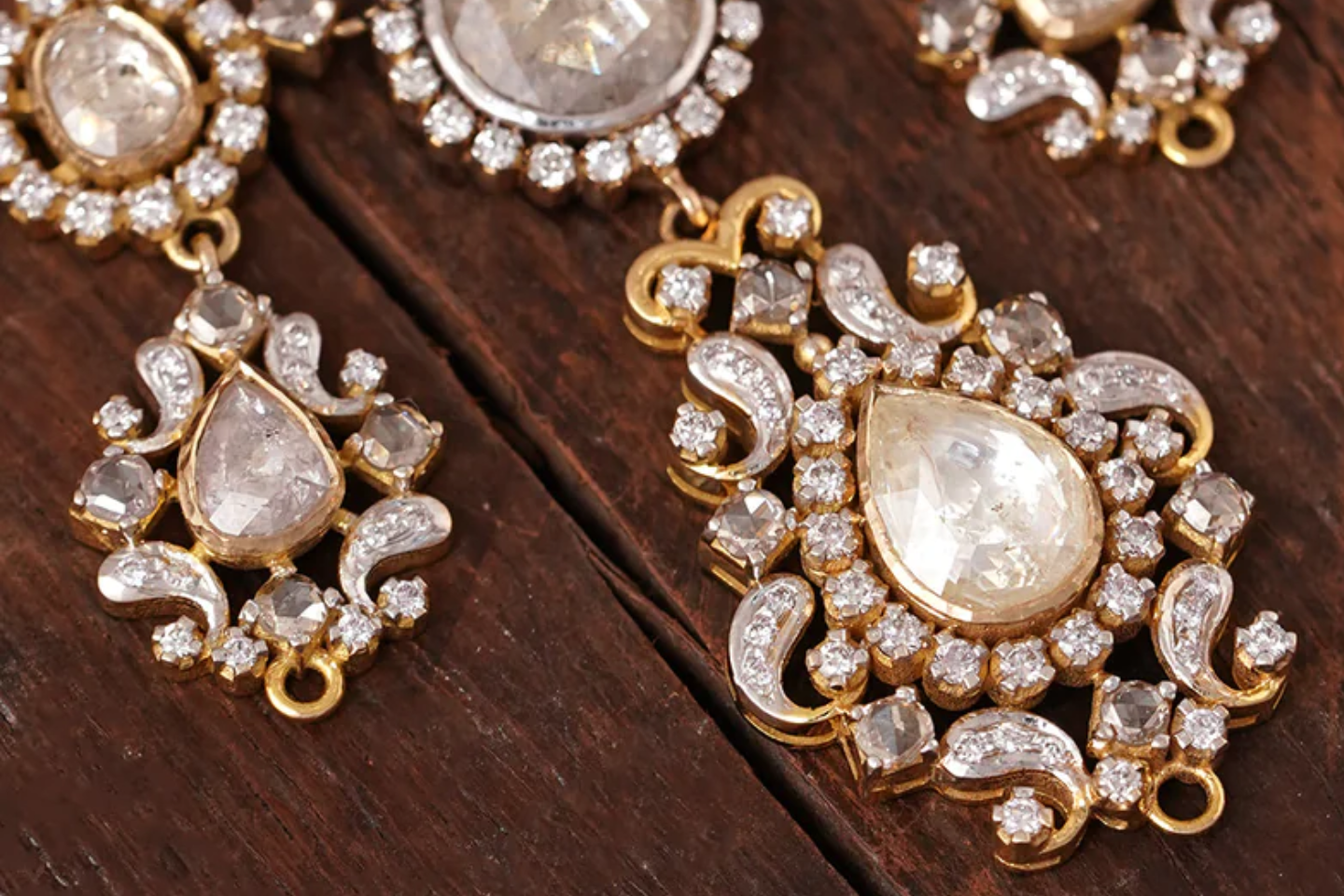 Don't limit yourself to round diamond rings or traditional jewelry pieces; there are more options to explore!
The cut of a gemstone is instrumental in enhancing the overall beauty of jewelry. To build your ideal Indian fine jewelry collection, it is recommended to define your preferences based on the four C's: color, cut, clarity, and carat weight.
Explore the world of perfect diamond cuts that infuse allure into your Indian fine jewelry collection. Additionally, in this pursuit, don't overlook a widely renowned option in the Indian fine jewelry market—the Polki diamonds. These romanticized gem cuts are considered among the oldest in the world, known for their ability to make diamonds radiate with a soft glow, reminiscent of moons.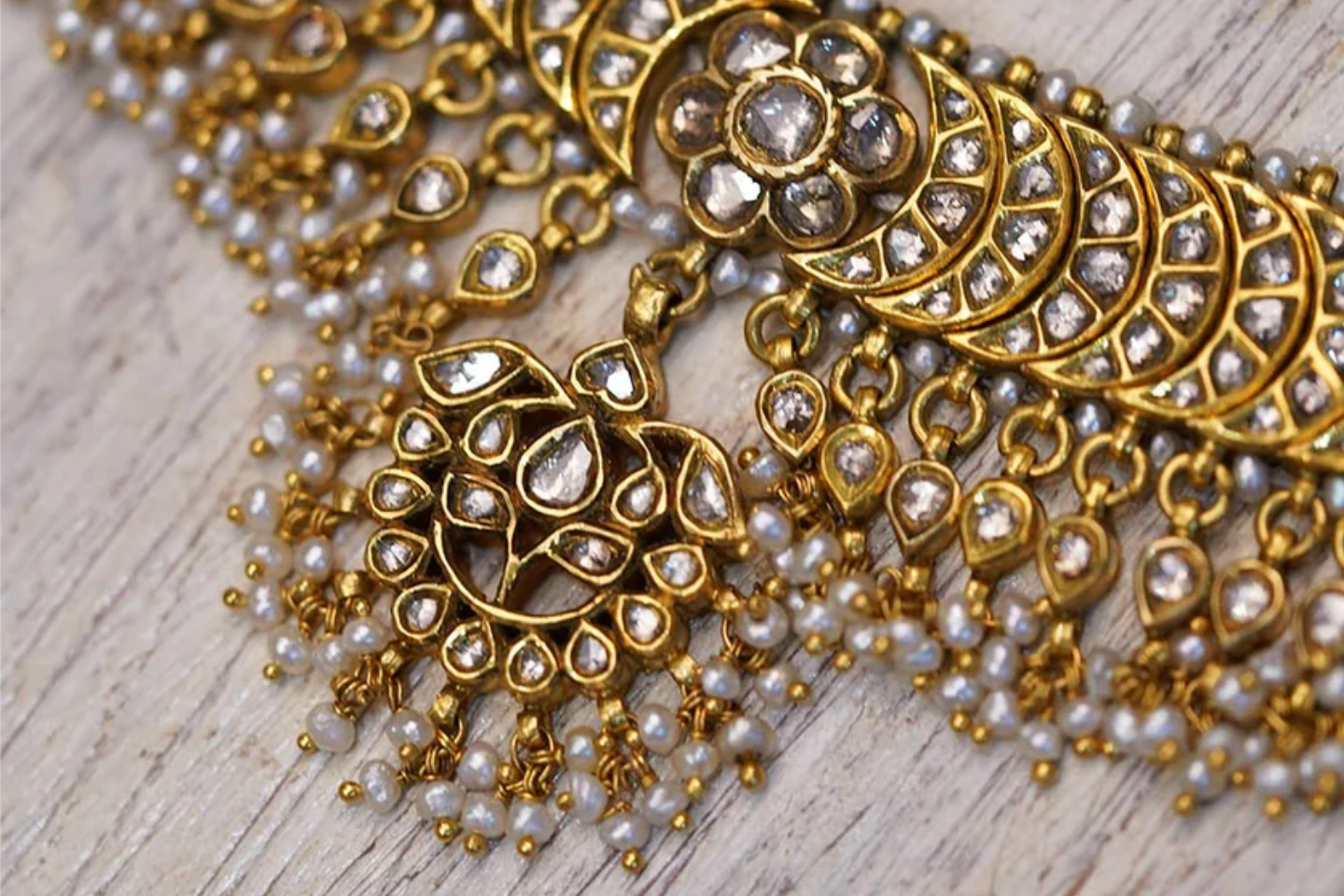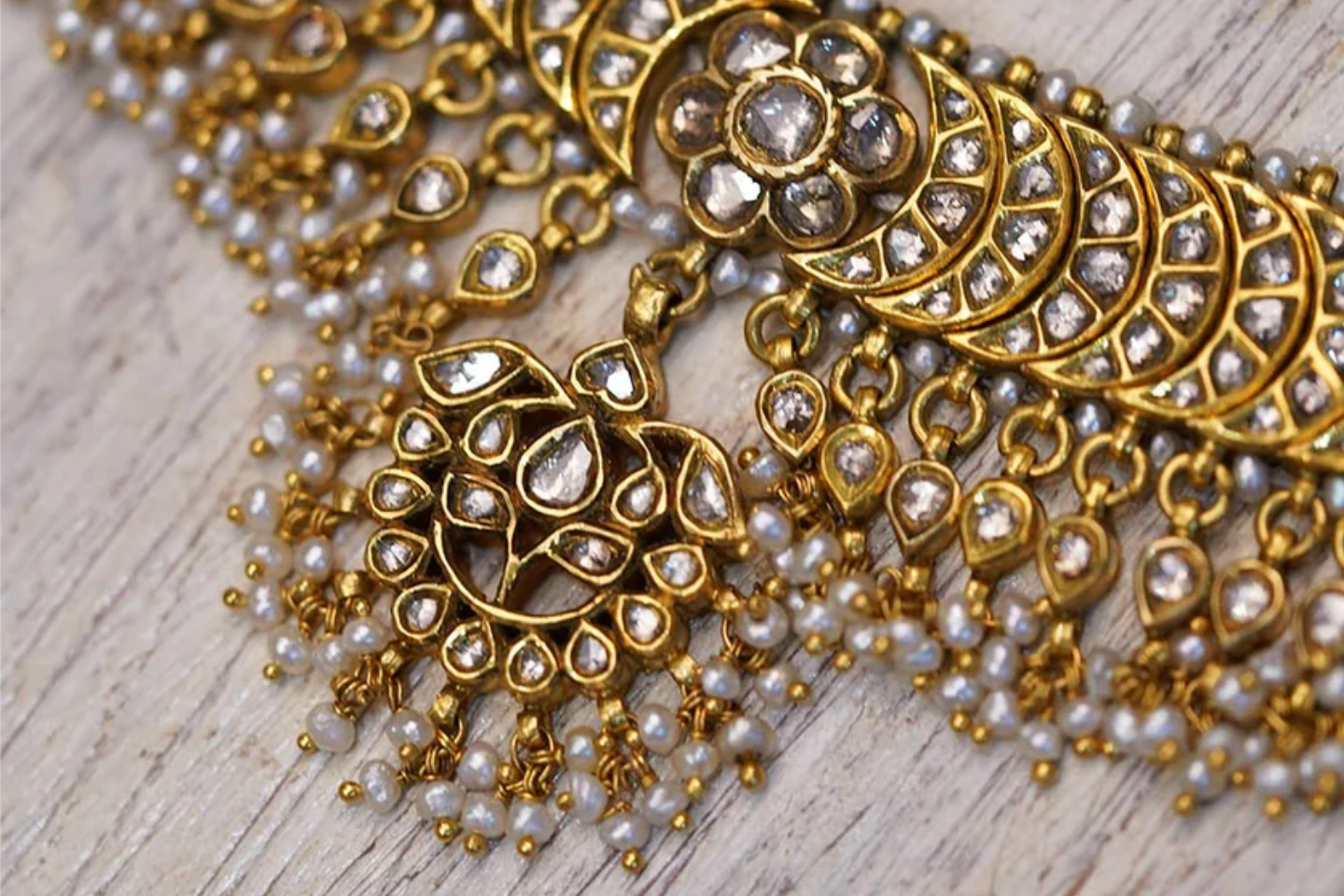 Durga Chand Neckalce by Aurus
However, the fact that the Polki cut is an ancient gem cut design does not diminish its potential to enhance a contemporary look. A Polki diamond possesses an irregular shape, characterized by smoothed edges that refine its overall appearance.
Assessing Metal Choices for Your Precious Diamond Jewelry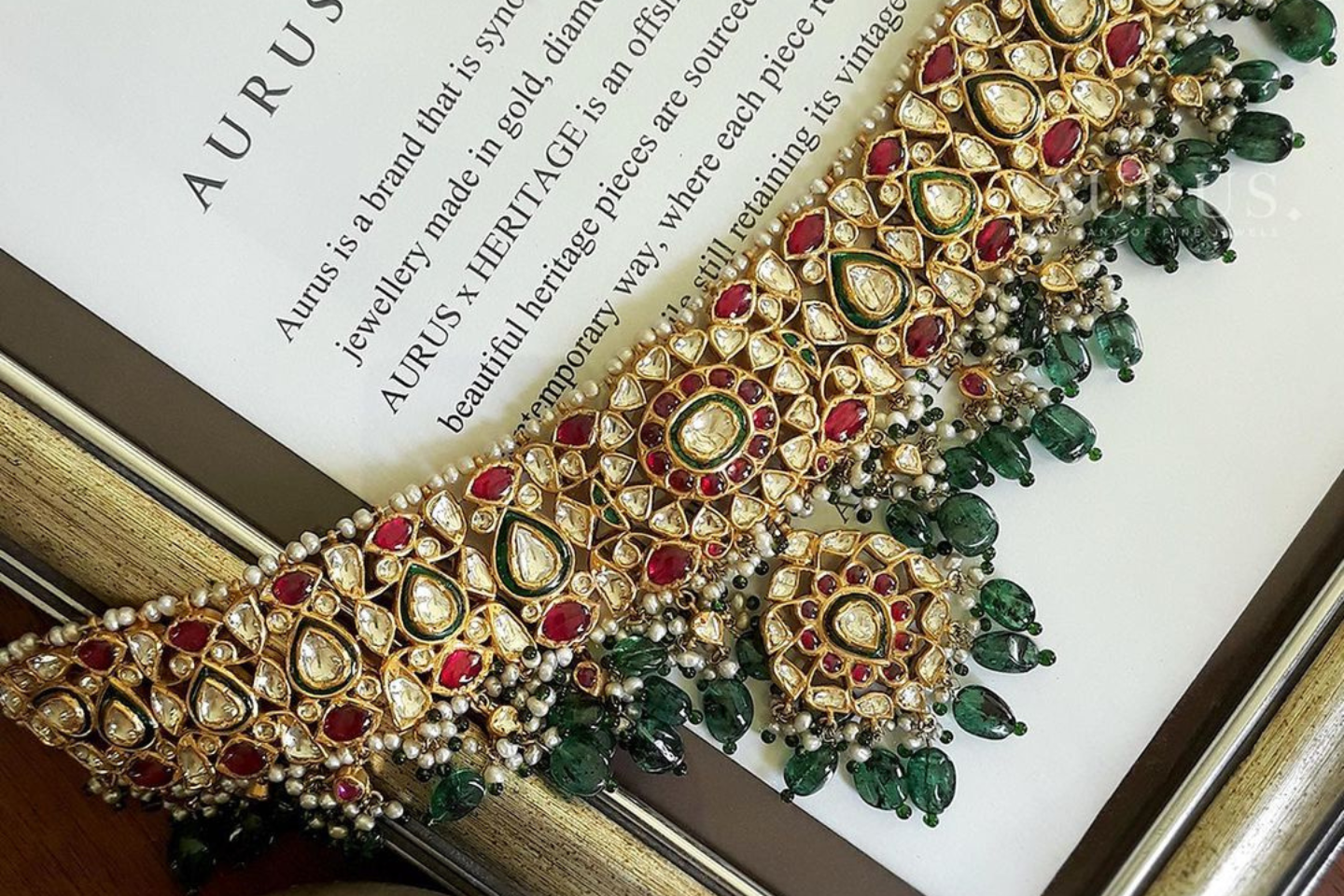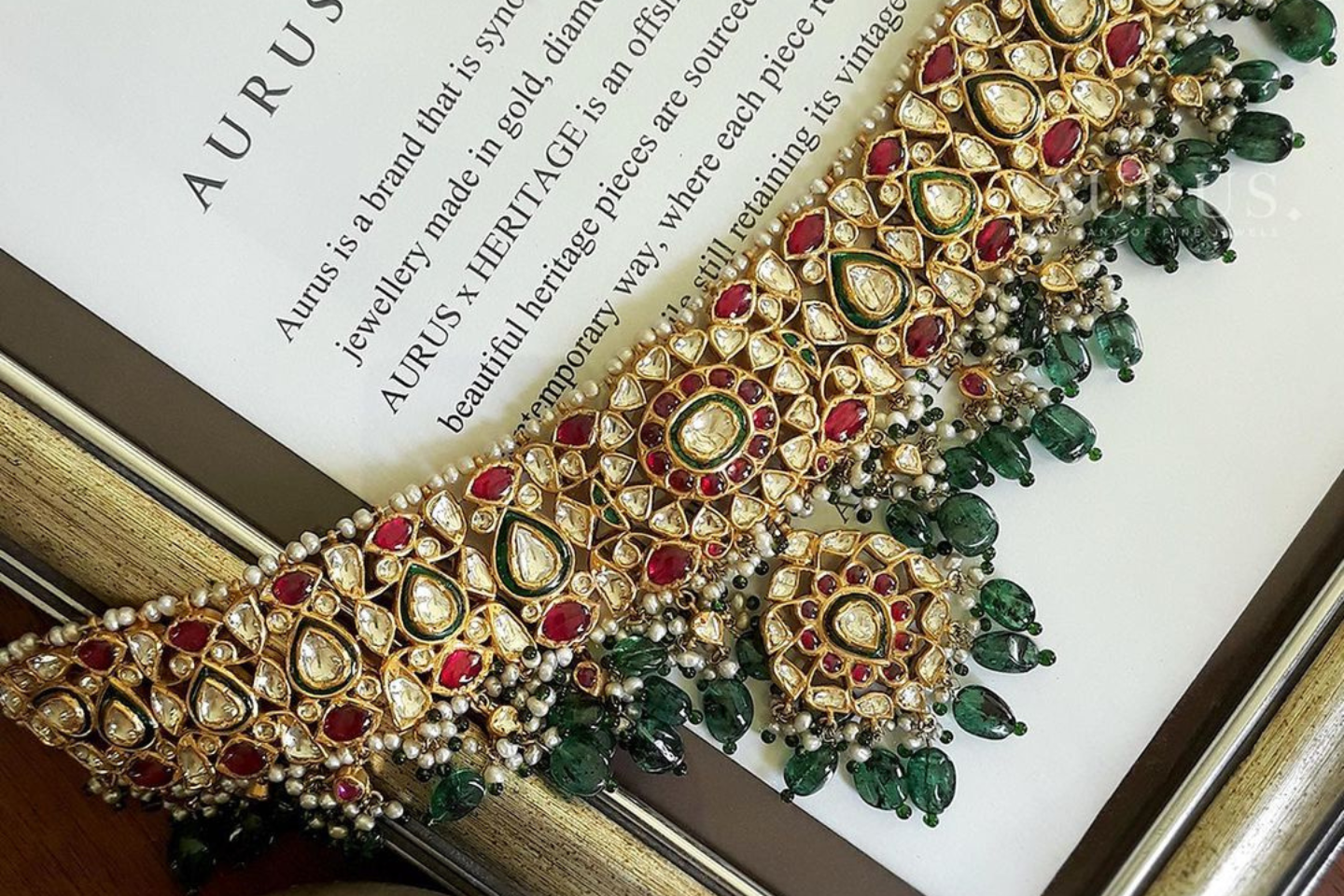 Consider metals as the foundation of your Indian fine jewelry pieces, as they play a crucial role when investing in diamond adornments. Whether you're purchasing a ring or necklace, it's important to explore the range of options available before making a final decision.
Choose Yellow Gold: Capture the symbol of good fortune and happiness with yellow gold, a popular choice for diamond engagement rings. This flexible metal stands the test of time and doesn't tarnish. It is composed by mixing gold with silver, offering a precious metal option.
Opt for White Gold: Highlighted by platinum, white gold Indian jewelry designs come in popular variations of 18K and 14K. Composed of platinum, gold, zinc, nickel, and other elements, the composition depends on your chosen Indian fine jewelry set. To maintain its shine, white gold is often coated with rhodium.
Embrace Rose Gold: As the third metal-alloy choice in this segment, rose gold showcases the love people have for gold in their Indian fine jewelry collection. Known for its pink tinge, this precious metal is an alloy of gold and copper. The copper contributes to its red hue, making it a popular choice among younger generations for everyday jewelry.
Celebrate with Platinum: Platinum Indian jewelry designs exude serenity and classic allure, making them revered by jewelry enthusiasts for generations. Although platinum is an expensive metal in the jewelry market, its strength allows it to withstand everyday wear and tear. Additionally, its naturally expensive look enhances special occasion attire.
Diamonds hold a special place in the world of Indian fine jewelry as one of the most revered precious gemstones. When selecting the perfect diamond jewelry set for your collection, there are several factors to consider, such as the type of diamonds, budget, gemstone cuts, accents, the purpose of the purchase, and the metal to pair with your diamonds.
In this blog, we have provided a brief overview of these aspects. If you are looking for luxury Indian fine jewelry designs adorned with diamonds, explore our exclusive collection. Our industry experts are also available to provide professional guidance and assist you in making the best diamond jewelry purchase for your Indian fine jewelry collection.
Read more from our
journal