A Modern Bride's Guide to Vintage Indian Bridal Jewelry
Published:
Thu, Jul 27, 2023
As you walk next to the glass boxes, you will realize that they conceal evidence of the past. Within them, bone structures, jewelry pieces, artifacts, tools, and so much more encase millions and billions of years of history. Museums play a crucial role in preserving the story of mankind by hoisting these pieces.
In this process of preserving heritage, jewelry also assumes a significant role. It serves as a tangible representation of the societal structure, the classification of work based on gender roles, and the advancement of society during the time of jewelry creation. Hence, studying Indian bridal jewelry from different eras becomes essential in order to understand and unveil the societal premises that existed during various periods of mankind.
For example,
The Mughal emperors adorned their turbans with jewelry enameled in gold. Even the jewelry from the Renaissance era features scrolling leaf patterns in the inner area of a thumb ring. These changes or patterns on jewelry pieces signify the time period to which they belong.
As a bride, knowing the history of Indian bridal jewelry can help you make an informed decision based on the kind of look you want to create on your special day.
Tips for Identifying Authentic Vintage Indian Bridal Jewelry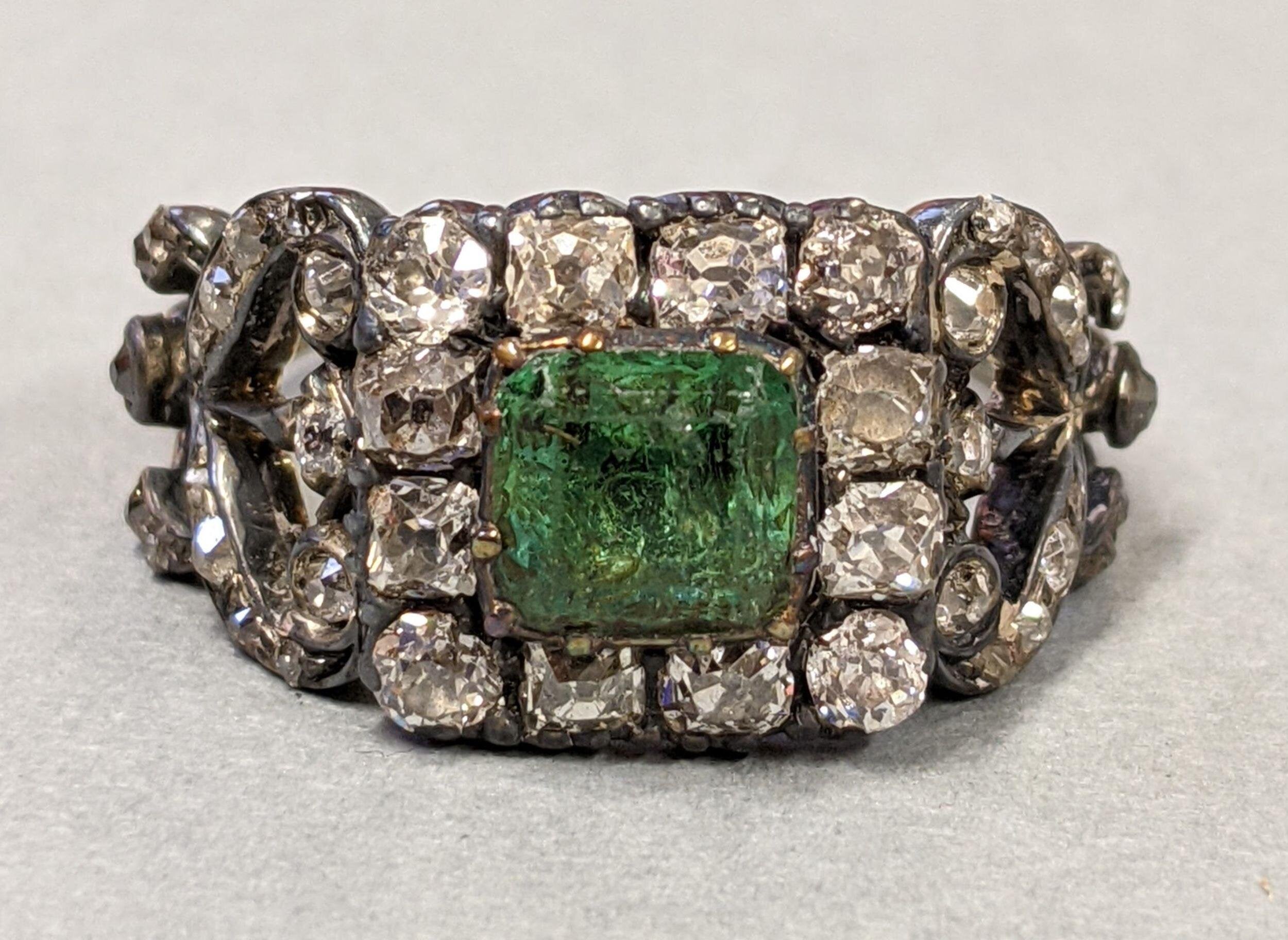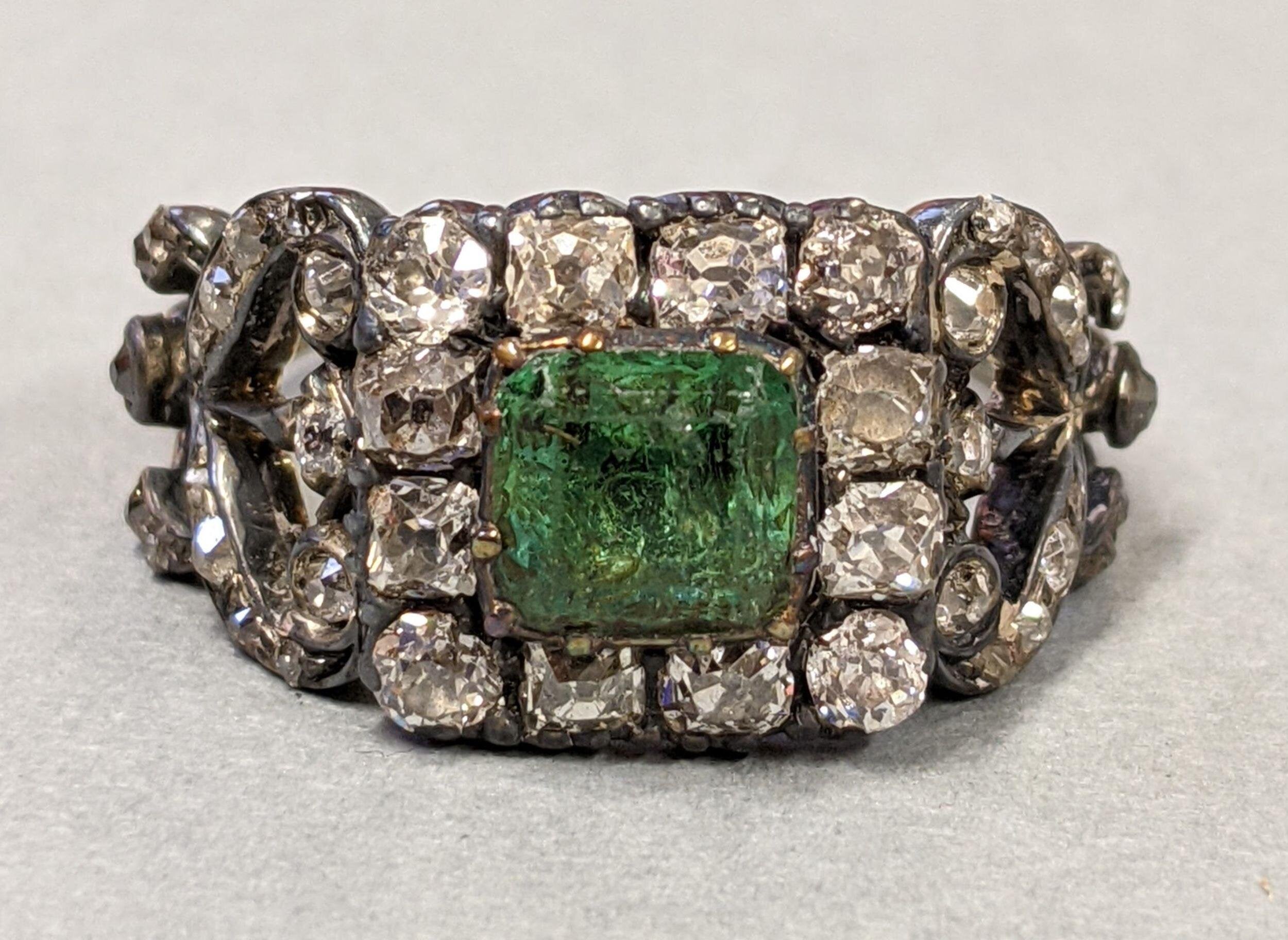 Image courtesy: Victoria and Albert Museum
Vintage pieces possess timeless qualities and carry captivating stories within them. However, it is essential for you to verify the authenticity of a jewelry piece before adding it to your Indian bridal jewelry set. If the piece holds significant emotional sentiment, you may bypass this step and directly incorporate it into your Indian bridal jewelry set.
If you decide to invest in a vintage piece, we recommend having it examined by an expert. This not only aids in understanding the jewelry's history but also assists in determining the necessary steps for repairs, restoration, and proper care to maintain the piece's excellent condition.
There are various types of gem cuts available in the jewelry industry: oval, pear, emerald, marquise, radiant, etc. Some of the popular vintage gem cuts are the eight, step, old European, rose, or pear brilliant cut.
Distinguish between antique and modern jewelry by examining the design and strength of the clasp. Vintage pieces typically feature distinct clasp styles compared to modern ones, and the strength of the clasp diminishes over time. These factors can be modified if the jewelry pieces undergo a repair process.
Check for a hallmark on the Indian bridal jewelry piece. Hallmarks are engraved inside the ornament and indicate the date of its creation.
Tips for Reviving Treasured Indian Bridal Jewelry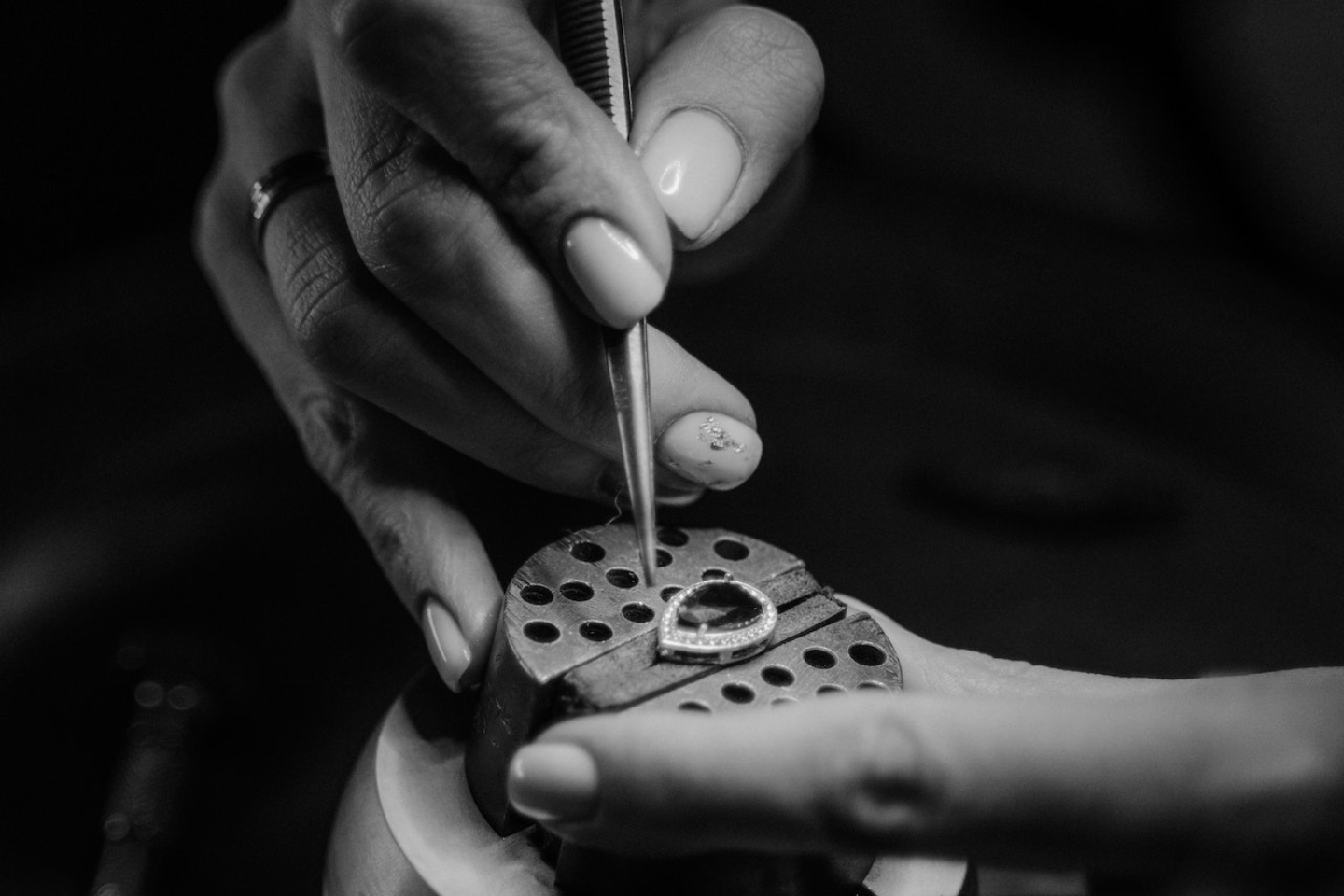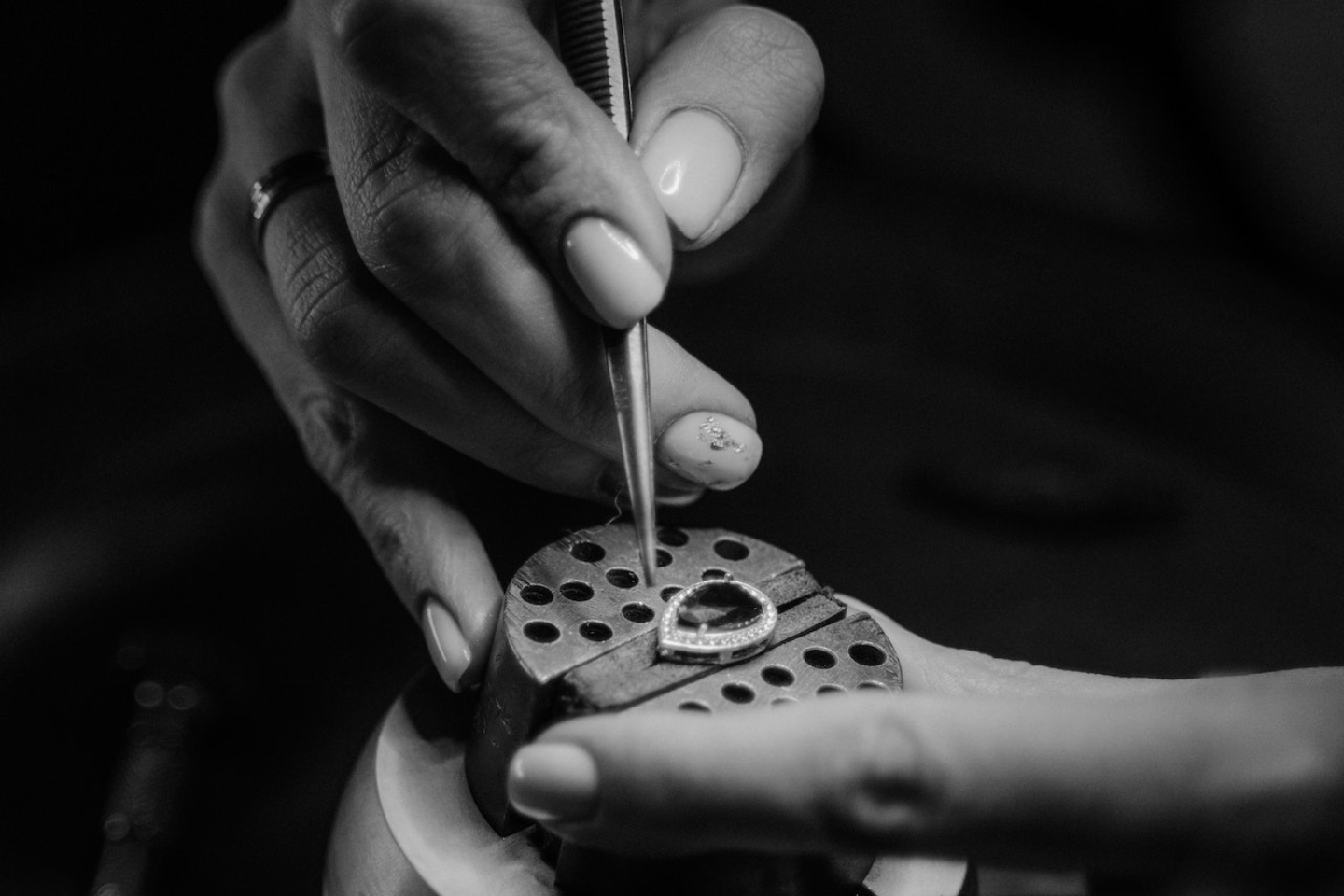 In a world of modern designs, one often reminisces about the past through family heirlooms. We believe that receiving a jewelry piece that conveys stories from previous generations to newer ones is a true blessing. However, ensuring that these heirlooms remain in pristine condition can be a challenge for anyone.
If you find yourself facing this dilemma, you can follow these steps to restore those old jewels to their former glory:
Use a dry brush to gently remove the dust from the ornament. It is crucial to emphasize the "gentle" approach, as applying excessive pressure may result in scratches on your precious adornment.
Vintage Indian bridal jewelry items cannot be treated with a "one-size-fits-all" approach. Carefully select cleaning solutions that cater to the specific needs of your ornament. For instance, one should wash gold jewelry one piece at a time using mild detergents. The use of mild detergents is recommended because they are less abrasive than other cleaners. When cleaning the ornament, use lukewarm water and a soft-bristled toothbrush. If you need further assistance, you can refer to our guide for cleaning Indian bridal jewelry like a pro!
After drying the ornaments, polish them with a special polishing cloth. This cloth, made from a unique fabric, revitalizes your jewels. Keep in mind that your favorite satin handkerchief cannot replace the effectiveness of this specialized cloth.
Assortment of Indian Bridal Jewelry Types
Indian bridal jewelry represents generations of stories encapsulated through jewels and metals. Each element of the ornament signifies the story of the particular era in which it was made, such as the social structure, the craftsmanship techniques, the preferred colors during that era, and the status of the person wearing the ornament.
By exploring different designs of Indian bridal jewelry, you can enhance your wedding trousseau with a regal look. In this blog, we will delve into six distinct Indian bridal jewelry designs. Each style engraves an unparalleled essence into every segment of the ornament.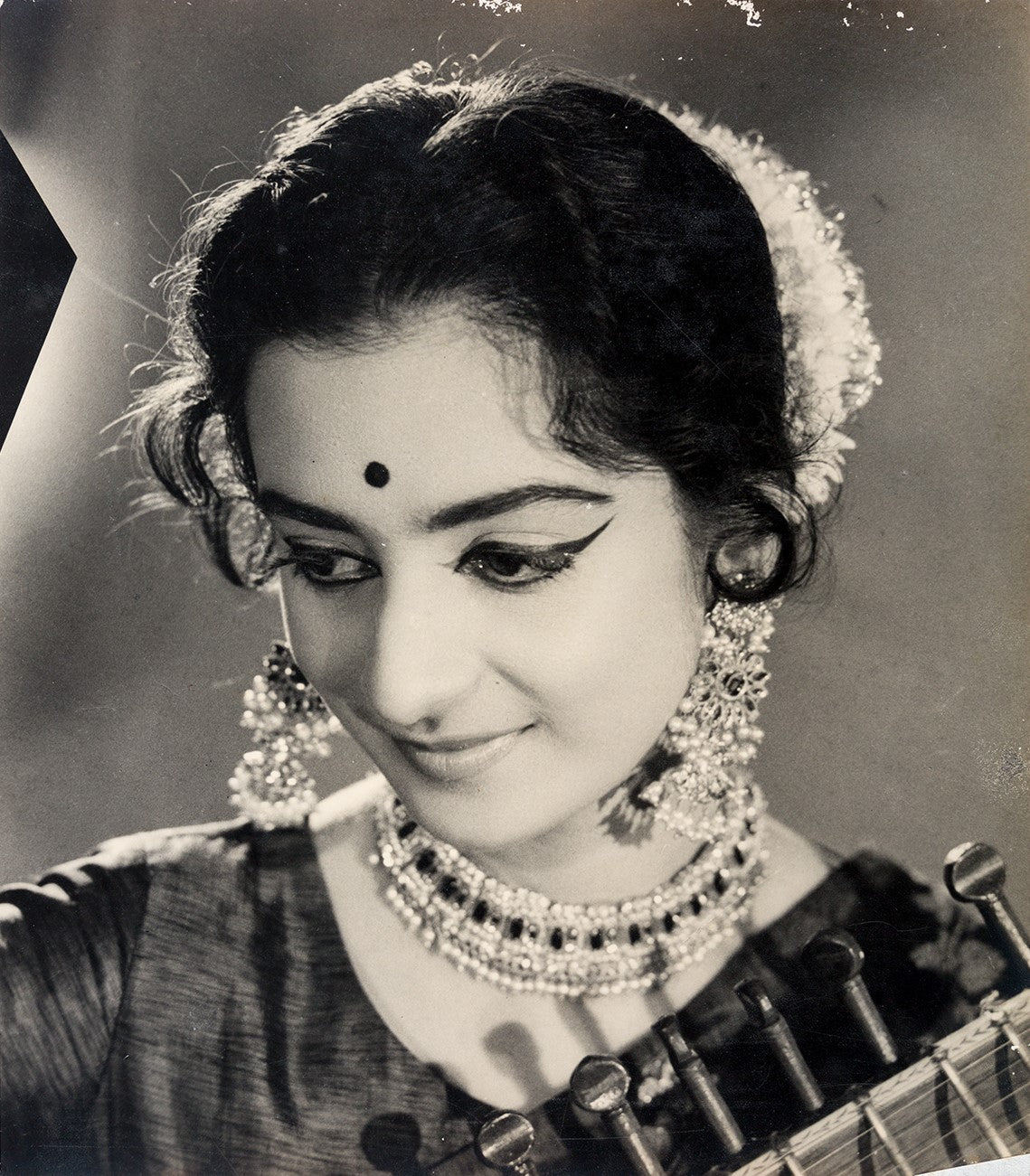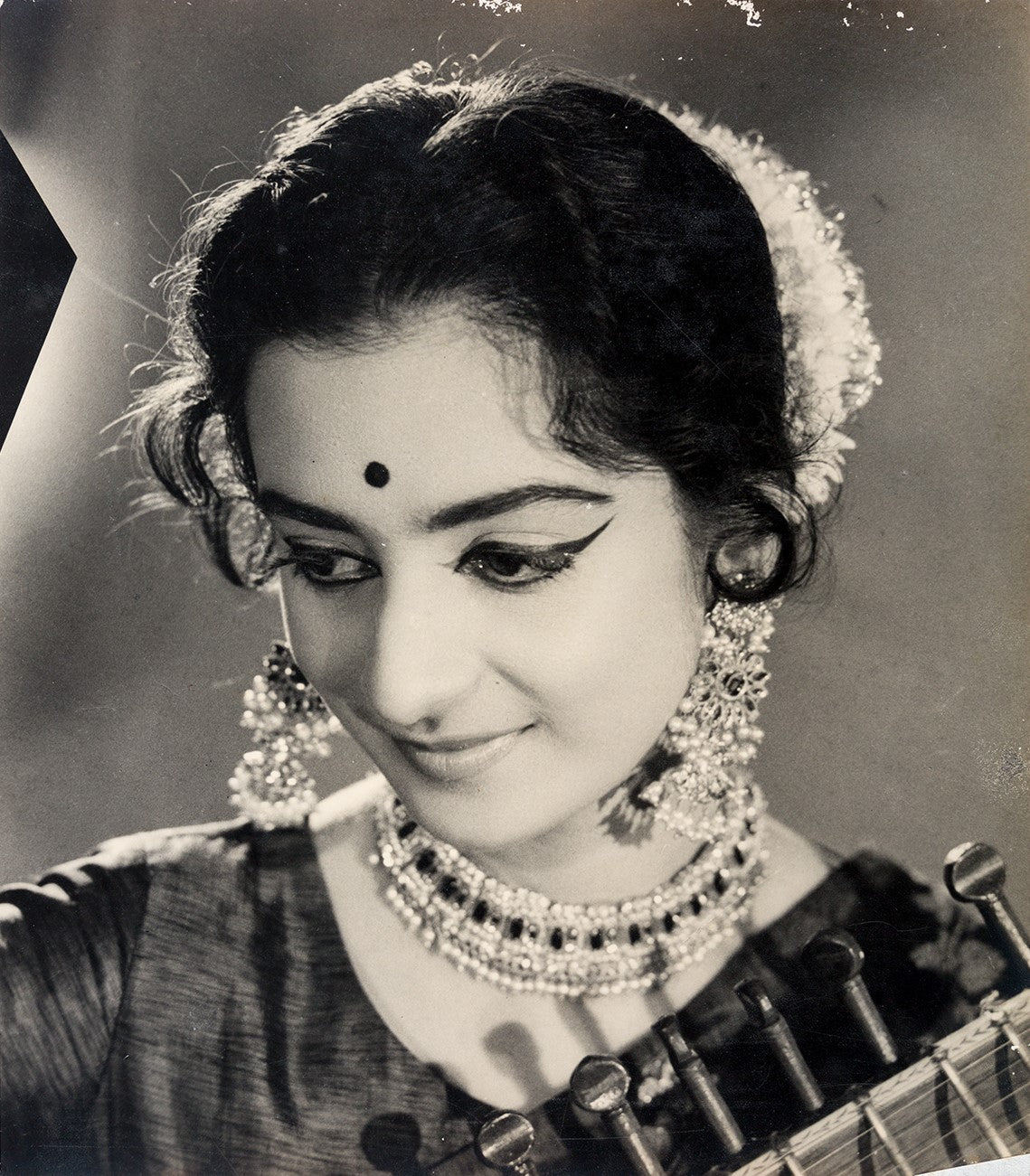 Image courtesy: Museum of Art and Photography
Kundan Indian Bridal Jewelry
Kundan jewelry designs carry an ancient legacy of 2,500 years in India. Crafted with meticulous care, Kundan jewelry showcases the fusion of wax and gold, symbolizing the purity of 24K gold. This captivating style reached its zenith during the Rajput and Mughal eras, adorning royals with its opulent charm.
Intricately designed, Kundan jewelry features the dazzling allure of precious stones like polkis, diamonds, rubies, and sapphires. Each piece in the Kundan Indian bridal jewelry set is brought to life through hours of skilled craftsmanship, where master artisans painstakingly shape and assemble every detail.
Thewa Indian Bridal Jewelry
In the array of jewelry art forms present across the nation, Thewa jewelry stands out for its elegant appearance. This art form is said to have originated in Pratapgarh, Rajasthan. The ornaments are created by intricately fusing sheets of gold with glass.
Even today, master craftsmen use blue, green, and red glass as the base material for designing elegant jewelry. Black paint is coated over the ornament to offer a sleek finish. Including this ornament as part of your Indian bridal jewelry would add a regal aura to the entire wedding look.
Polki Indian Bridal Jewelry
Top celebrities in B-town adorn themselves with the captivating allure of polki jewelry, establishing it as one of the most popular choices for jewelry designs among Indian brides. This exquisite art form practices the incorporation of uncut diamonds into fine jewelry designs.
Craftsmen in Bikaner, Rajasthan, specialize in various techniques to create these perennial designs, including jadau, takkar, and badroom. Jadau entails embedding the ornament with precious stones, while badroom involves intricately clubbing the polkis together. Takkar, on the other hand, requires the meticulous technique of adorning the ornament with tightly arranged polkis, without any metal cushioning.
Lac Indian Bridal Jewelry
The art form of Lac Indian bridal jewelry originates from Rajasthan, captivating and endearing people worldwide with its vibrantly colored enameling on the ornament.
Under the reign of Maharaja Ram Singh of Jaipur, this art form flourished. Creating lac jewelry involves a highly intricate and complex process. Skilled craftsmen heat, combine, knead, hammer, and shape the raw material until it is transformed into a beautiful ornament. Mirrors and glass beads are then meticulously added as embellishments.
Tribal Indian Bridal Jewelry
Tribal Indian bridal jewelry entwines cultural practices with an alluring art form. From the lush green forests of the northern states to the plateau of Jharkhand, tribal jewelry design encapsulates the rich history of these tribes and their religious practices.
For example, the bride of the Gaddi tribe of Himachal Pradesh wears an enormous maangtika on her head as one component of her Indian bridal jewelry. It has vibrant solid-color enamel on the ornament.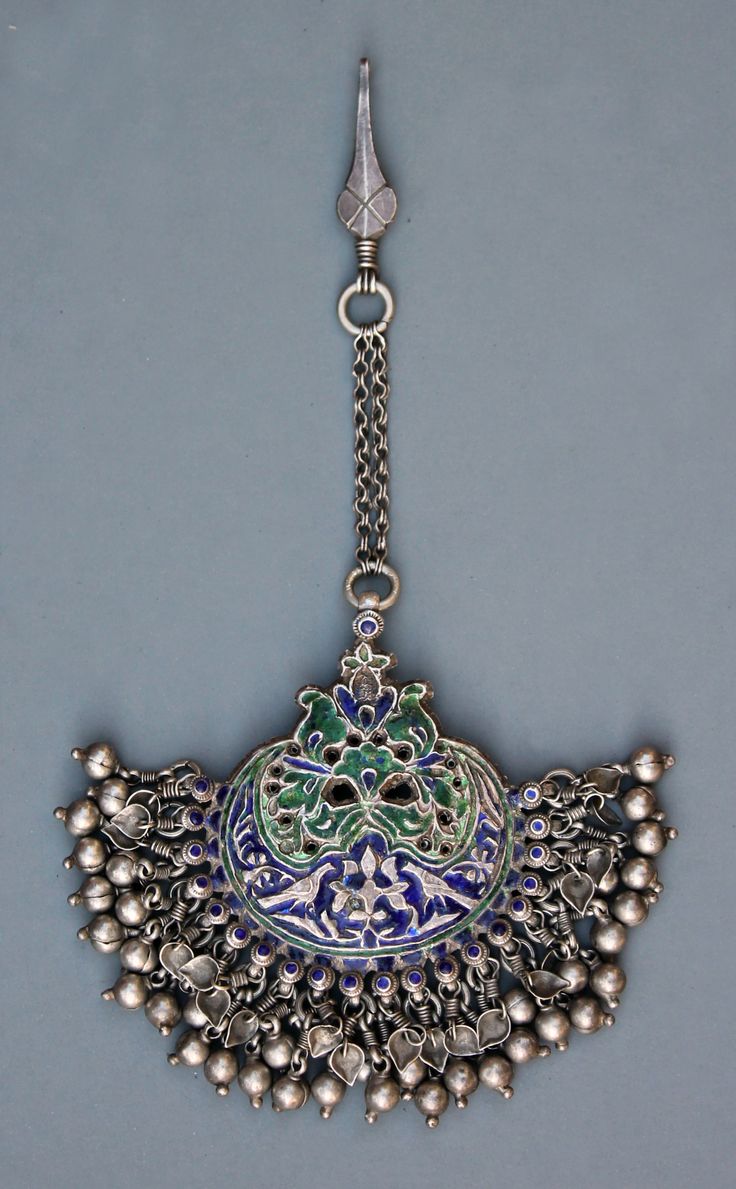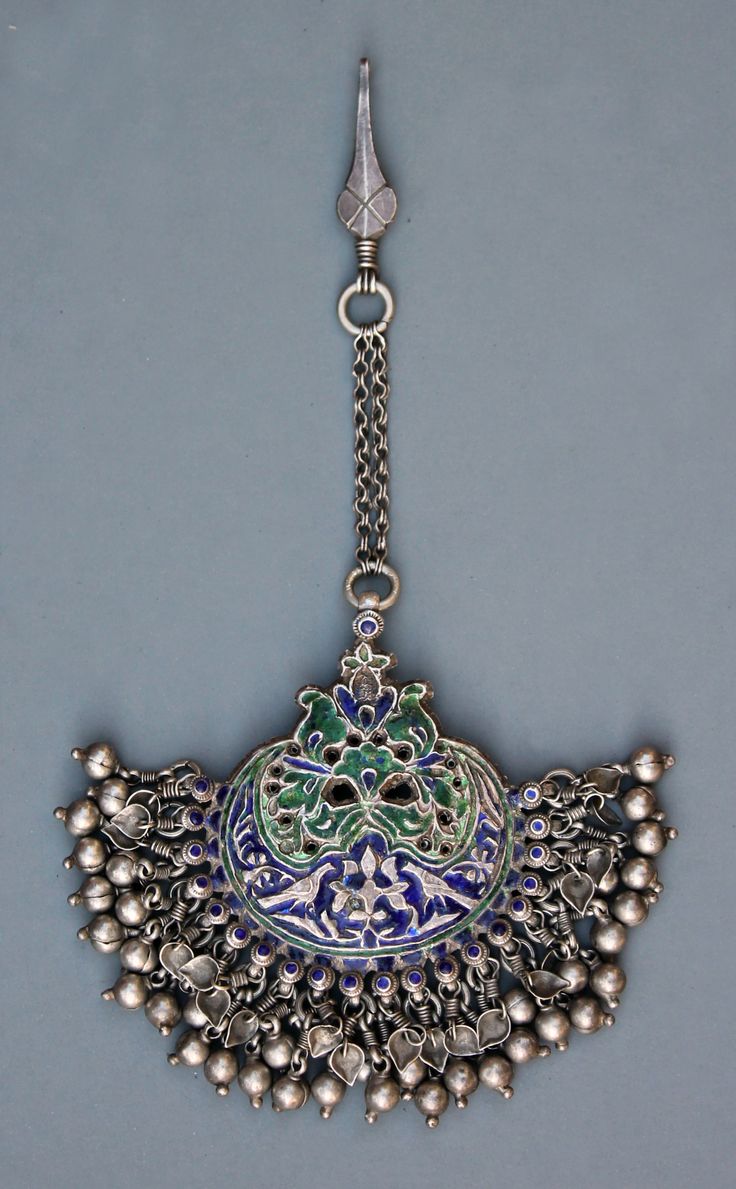 Image courtesy: Pinterest via Lifestyle Fun
Cultural Treasures: Indian Bridal Jewelry Reflecting Our Heritage
Each state adorns its brides in a unique and captivating manner. Punjab, for instance, embellishes its brides with a ravishing bridal suit accompanied by a bold and fashionable Indian bridal jewelry set. Similarly, Bengal graces the hands of their brides with betel leaf and adorns their heads with an elegant Indian bridal ornament that perfectly complements their wedding look. This tradition echoes throughout every region of our country, each carrying a rich legacy.
These regions have given rise to distinctive art forms, harmonizing culture and life through jewelry in diverse forms. Every element of a bride's jewelry set symbolizes deep spiritual meaning within the culture. Additionally, it fulfills the essential criteria of the sixteen adornments, or Solah Shringar, that every bride must follow on her wedding day.
If you find yourself marrying into a different culture or seeking to honor your heritage, researching popular jewelry designs among local brides can be invaluable. Through this process, you not only unveil various traditions that should not be missed but also discover a lineage of graceful blessings passed down from one generation to the next.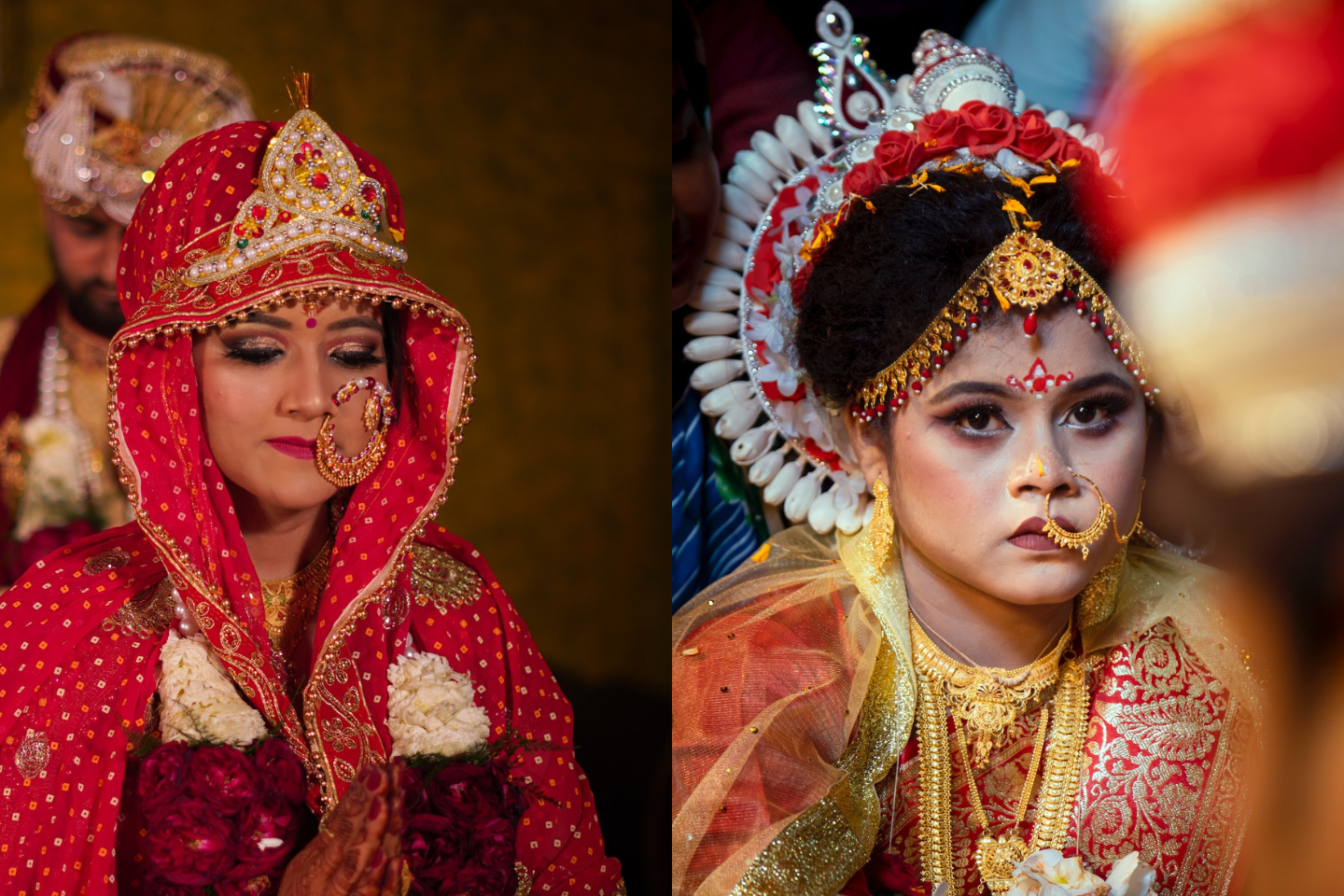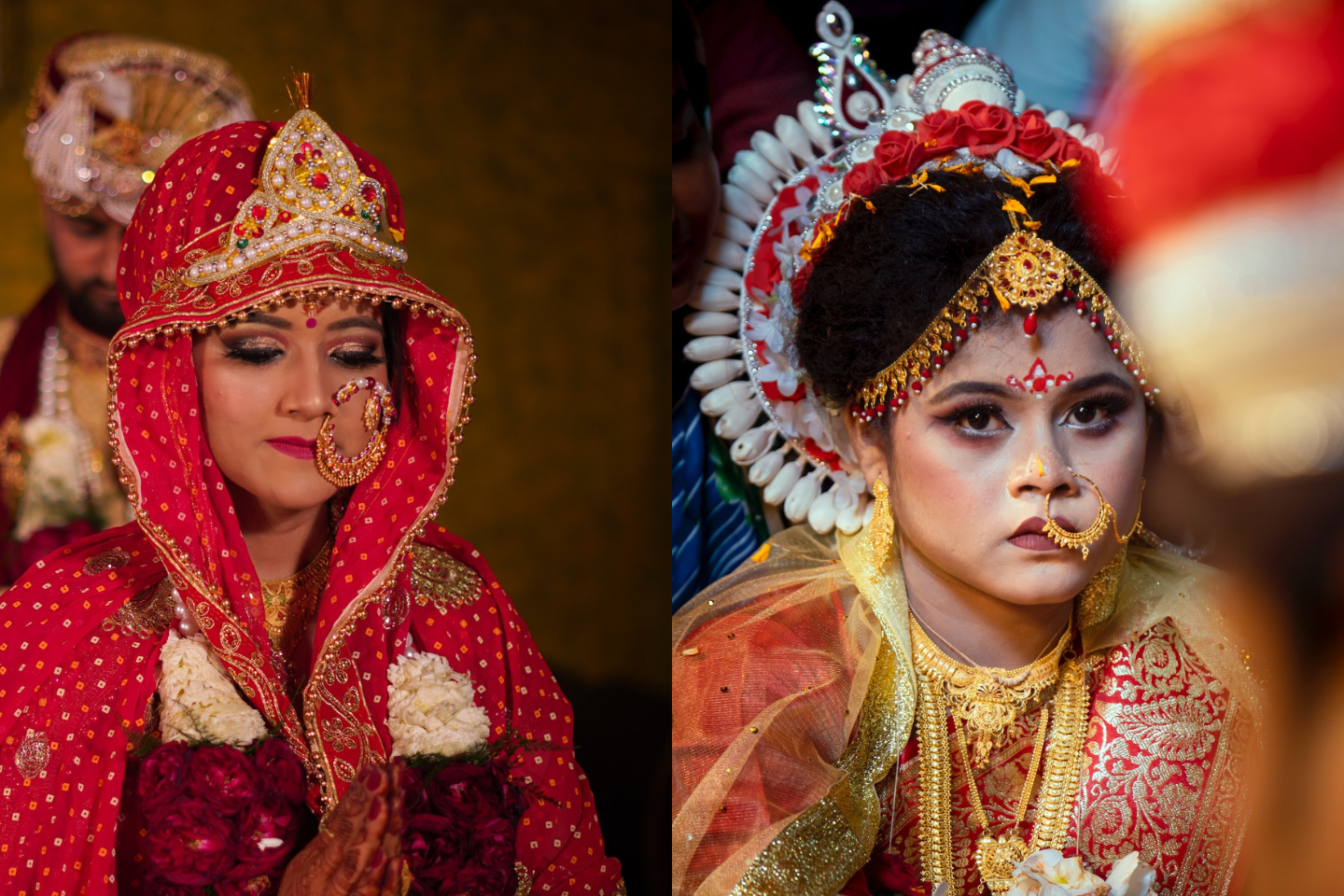 Vintage Indian bridal jewelry is truly a masterpiece, transcending its role as a mere accessory. It holds within it stories of the past, reflecting the societies in which they were meticulously crafted, as well as the personal narratives of those who have worn these adornments. These exceptional pieces not only capture historical contexts but also provide us with a gateway to unravel the rich traditions of diverse cultures. By studying and appreciating these intricate jewelry designs, we are able to preserve cultural practices, passing them on to future generations and ensuring their endurance for centuries to come. In essence, vintage Indian bridal jewelry is not just about beauty and craftsmanship—it is a gateway to our shared heritage, a testament to the enduring power of culture, and a precious link connecting us to our roots.
Read more from our
journal